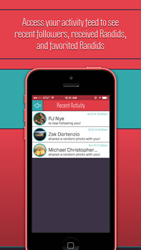 Washington, DC (PRWEB) September 15, 2014
"Randid" was featured on NewsWatch as part of its monthly AppWatch, which takes a look at the latest and coolest apps on the iOS, Android, and Windows markets. Andrew Tropeano, a host of NewsWatch and a mobile technology expert, conducted the app review and shared with viewers how it makes picture sharing fun by connecting random people around the world through their photos.
Millions of photos are taken daily with a phone. Of those millions, a large percentage are beautiful landscapes, exotic foods, and cultural experiences. Unfortunately, 2014 was the year of the selfie, so another large percentage are duck-faced photos that everyone hates. A cool app that encourages the former is RandidApp.
RandidApp is free to download on iOS devices and it makes picture sharing fun by connecting random people around the world through their photos. Similar to other photo apps, users take a photo and add a filter to it. They then "Randid" it and the photo is sent to a stranger anywhere in the world. When the user sends a photo, they immediately receive one from a stranger too. They see where it came from, then can like it, favorite it to their timeline, or delete it. If the favorite it, the original creator receives a notification.
Rather than heading to the popular image sharing social sites and seeing the same people posting the same photos, users can see a photo from someone they've never spoken to, possibly from a place they've never visited. And they can keep all their sent and favorite photos in a folder on their device.
To download it, head to the appstore and search "Randid" or visit https://itunes.apple.com/us/app/randid/id791202964?mt=8.
About NewsWatch
NewsWatch is a weekly 30-minute consumer oriented television show that airs on the History Channel, FYI Network, and ION Network. NewsWatch regularly features top technology products and services, mobile applications for iOS, Android, and Windows devices, unique and beautiful travel destinations around the world, health and medical tips, and entertainment interviews on the show. NewsWatch airs on the History Channel at 6:00 – 6:30 AM ET/PT and on the FYI Network from 7:00 – 7:30 AM ET.
NewsWatch is located in the greater Washington, DC area and has been on air for over 25 years. For more information or to watch the most recent episode, visit http://newswatchtv.com.