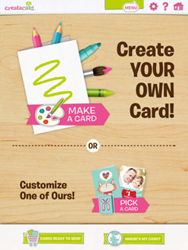 Washington, DC (PRWEB) November 07, 2014
"Creatacard" was featured on NewsWatch as part of its monthly AppWatch, which features the latest and coolest mobile applications on the iOS, Android, and Windows markets. Andrew Tropeano, a mobile technology expert and host of NewsWatch, conducted the app review and shared with viewers how they can create, print, and send personalized cards from their tablet.
In a digital world where everything is paperless, sometimes it's important to remember that everyone still loves receiving a tangible card. An app that came out from American Greetings called Creatacard does just that.
With the app, children can draw, collage, and create a personalized card that will then be professionally printed and mailed to whoever they want. On the front cover and inside pages, users can use crayons, pencils, brushes, and stickers – plus quite a few others – to create the card. They can also insert a photo or image to personalize it.
Whether it's for a birthday, a holiday, or just a kind thought, parents and children can make a card that's personal and touching. When they're done creating it, they can sign their name to the back of the card and send it to the print shop. After the card is created, the experience isn't over – kids can follow the process in the app as the card goes through each step, from print to delivery.
The app is free and the card is only $3.49 to print and deliver. To download the app or give it a try, head to the iTunes app store and search Creatacard today or visit https://itunes.apple.com/us/app/creatacard/id811111466?ls=1&mt=8.
About NewsWatch
NewsWatch is a weekly 30-minute consumer oriented television show that airs on the History Channel, FYI Network, and ION Network. NewsWatch regularly features top technology products and services, mobile applications for iOS, Android, and Windows devices, unique and beautiful travel destinations around the world, health and medical tips, and entertainment interviews on the show. NewsWatch airs on the History Channel at 6:00 – 6:30 AM ET/PT and on the FYI Network from 7:00 – 7:30 AM ET.
NewsWatch is located in the greater Washington, DC area and has been on air for over 25 years. For more information or to watch the most recent episode, visit http://newswatchtv.com/appwatch.html.