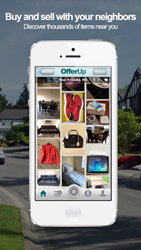 (PRWEB) November 08, 2014
"OfferUp" was featured on NewsWatch as part of its monthly AppWatch, which features the latest and coolest mobile applications on the iOS, Android, and Windows markets. Andrew Tropeano, a mobile technology expert and host of NewsWatch, conducted the app review and shared with viewers how it streamlines the online buying and selling process.
Everyone is guilty of keeping things around the house they don't need. Why keep it when it can be sold for cash? A new app called OfferUp is a great resource to quickly buy and sell those items locally. It's free for iOS and Android devices and it streamlines the online buying and selling process.
Sellers can take and upload a photo of the item, then suggest a price, taking less than 30 seconds. The post is then thrown into the OfferUp marketplace, which has thousands of users. Each post also displays the seller's approximate location, so the buyer can decide if it's worth their time.
If someone is interested in buying an item, they can message the seller safely through chat without giving any personal information. The two can then negotiate and determine a convenient location to complete the sale. Users can find almost anything to buy on OfferUp; some of the most popular items are Furniture, Phones, Clothes, and even Halloween costumes.
Anyone interested in making a little bit of extra cash or getting great deals, should search 'OfferUp' in the app store today or visit https://offerupnow.com/.
About NewsWatch
NewsWatch is a weekly 30-minute consumer oriented television show that airs on the History Channel, FYI Network, and ION Network. NewsWatch regularly features top technology products and services, mobile applications for iOS, Android, and Windows devices, unique and beautiful travel destinations around the world, health and medical tips, and entertainment interviews on the show. NewsWatch airs on the History Channel at 6:00 – 6:30 AM ET/PT and on the FYI Network from 7:00 – 7:30 AM ET.
NewsWatch is located in the greater Washington, DC area and has been on air for over 25 years. For more information or to watch the most recent episode, visit http://newswatchtv.com/appwatch.html.