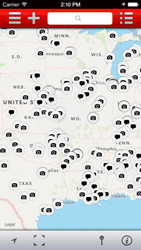 Washington, DC (PRWEB) November 09, 2014
"Roundabout" was featured on NewsWatch as part of its monthly AppWatch, which features the latest and coolest mobile applications on the iOS, Android, and Windows markets. Andrew Tropeano, a mobile technology expert and host of NewsWatch, conducted the app review and shared with viewers how it helps travelers find points of interests based on user-submitted stories and experiences.
Anyone who has ever taken a trip has wondered what local legends exist near a location. A new mapping app called Roundabout helps travelers find points of interests based on user-submitted stories and experiences. Roundabout is the first application that allows people to share the stories they enjoy telling by pinning them on a map based on where the story happened.
The map is powered by google maps so it allows users to discover and share stories, both old and new, on an interface they're already familiar with. The stories are broken down into unique categories that don't exist on Google like local history, attractions, folklore, and landmarks. No matter where a traveler is, Roundabout can help them find stories from categories that interest them near their location. Roundabout makes it easy to share stories, because the history of any place is only as good as the collection of stories that created it.
To discover the next amazing place, be sure to check out RoundAbout. Just head to the iTunes store and search "RoundAboutApp"or visit http://www.roundaboutapp.com.
About NewsWatch
NewsWatch is a weekly 30-minute consumer oriented television show that airs on the History Channel, FYI Network, and ION Network. NewsWatch regularly features top technology products and services, mobile applications for iOS, Android, and Windows devices, unique and beautiful travel destinations around the world, health and medical tips, and entertainment interviews on the show. NewsWatch airs on the History Channel at 6:00 – 6:30 AM ET/PT and on the FYI Network from 7:00 – 7:30 AM ET.
NewsWatch is located in the greater Washington, DC area and has been on air for over 25 years. For more information or to watch the most recent episode, visit http://newswatchtv.com/appwatch.html.