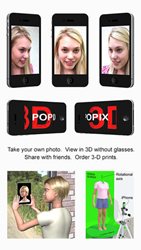 Washington, DC (PRWEB) November 11, 2014
"Popix3D" was featured on NewsWatch as part of its monthly AppWatch, which features the latest and coolest mobile applications on the iOS, Android, and Windows markets. Andrew Tropeano, a mobile technology expert and host of NewsWatch, conducted the app review and shared with viewers how it allows users to create and share 3D selfies.
In the last year, a phenomenon called the selfie has taken root in social circles and pop media. From Ellen DeGeneres, to Prince William, to high school classmates, everyone takes them to the tune of 1 million selfies per day. For anyone interested in taking their selfie game to the next level by making it 3D, a cool app called Popix3D is a great option.
Popix3D is available for iPhones and iPads for $1.99 and it works by turning a short video into a file that you can share on social media sites like Facebook and twitter, as well as email. You can also add props like mustaches and hats to mess with friends' selfies. And for people who really like it, they can have it printed as a 3-D postcard for $6.99.
So how does it work? Well, once downloaded, within the app, users take a quick video, then choose the in and out points, and create it. The creators have also opened it up to businesses. Any user that wants to try on a dress can place their headshot in a 3D dress and see how it looks.
To learning more, visit http://www.popix3d.com.
About NewsWatch
NewsWatch is a weekly 30-minute consumer oriented television show that airs on the History Channel, FYI Network, and ION Network. NewsWatch regularly features top technology products and services, mobile applications for iOS, Android, and Windows devices, unique and beautiful travel destinations around the world, health and medical tips, and entertainment interviews on the show. NewsWatch airs on the History Channel at 6:00 – 6:30 AM ET/PT and on the FYI Network from 7:00 – 7:30 AM ET.
NewsWatch is located in the greater Washington, DC area and has been on air for over 25 years. For more information or to watch the most recent episode, visit http://newswatchtv.com/appwatch.html.