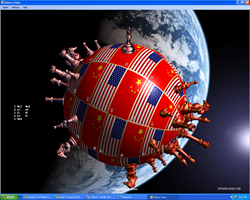 (PRWEB) November 20, 2014
"SphereChess" was featured on NewsWatch as part of its monthly AppWatch, which features the latest and coolest mobile applications for iOS, Android, and Windows phones. Andrew Tropeano, a mobile technology expert and host of NewsWatch, conducted the app review and shared with viewers how it has revolutionized traditional board game.
One of the world's oldest and most popular games, Chess, has been given a new spin with SphereChess. SphereChess throws the chess battle field onto a sphere. With the same 64 squares and rules but without the edges of a square board, SphereChess pieces have infinite attack options, in any direction.
In addition to unique and engaging game play, the graphics are fun and high quality, and the user interface allows for complete customization – from the background, to the squares, pieces, and user controls.
Users have three Play options. First, against a dumb computer where users can explore their way around a sphere in relative safety. The second option is the "hotseat" where players and a friend compete againt each other on the same computer. The third option, which happens to be the most fun, is to register and play online. Online, users can post private challenges to their friends. The developers have included live chat during games as well, offering a video game quality.
SphereChess is available for Windows PC, only. But mobile versions are coming. To learn more or to register online, visit http://www.SphereChess.com.
About NewsWatch
NewsWatch is a weekly 30-minute consumer oriented television show that airs on the History Channel, FYI Network, and ION Network. NewsWatch regularly features top technology products and services, mobile applications for iOS, Android, and Windows devices, unique and beautiful travel destinations around the world, health and medical tips, and entertainment interviews on the show. NewsWatch airs on the History Channel at 6:00 – 6:30 AM ET/PT and on the FYI Network from 7:00 – 7:30 AM ET.
NewsWatch is located in the greater Washington, DC area and has been on air for over 25 years. For more information or to watch the most recent episode, visit http://newswatchtv.com/tech-report.html.