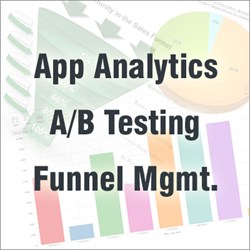 (PRWEB) January 31, 2014
ShepHertz – A Cloud Ecosystem provider for Apps (Mobile, Web, Social, Gaming and TV Apps) announces the launch of App42 Analytics, which gives detail insight on app data and consumer behaviour. App developers can take informed decisions and take actions to increase conversion and engagement of app users.
App42 Backend as a service (BaaS) has the largest number of services and support for popular native SDKs globally. Adding analytics capabilities to their App42 Backend as a Service (BaaS) services gives App developers tremendous power and insight on App data and behaviour.
Highlights of its core features:
App Analytics:

API usage Analytics
Storage Usage Analytics
Geo analytics of API calls
Analyze the number of installations of your App across different devices
Track whether your users are from Facebook, Twitter, App42 etc.
Define User activities/UI at various levels and track time, duration, etc. spent by users on each activity/UI
Pivot Analysis: Analyse App Data using Pivot table in AppHQ console and create custom dynamic reports
Funnel Management:

Funnel Management Chart to help developers track user interaction at various levels and get conversion metrics
Calculate user acquisition, retention and attrition/churn
Abillity to create multiple funnels and associated events in your app.
Mobile A/B Testing :

In-App A/B Testing gives conversion insight on two or more variants of an mobile app UI and helps in taking decisions based on the UI or elements of UI which show higher conversion.
Analyze detailed reports to see performance of each UI varaint and declare winner to best performing variant
Detailed Visual Charts
Manage distribution of percentage between variants
Majority of the Analytics features are implicitly available with App42 SDK integration in the app and no effort from the developer is required to make it work. However for using A/B Testing and funnel management APIs calls have to be integrated at points which are of interest. All these analytics features are available on all supported SDKs of App42 which mainly includes Android, iOS, Unity, Windows Phone, Java Script and others.
About ShepHertz
ShepHertz Technologies is a cloud ecosystem provider for App and Game Developers which adds value to the complete development life cycle of their Apps and beyond. ShepHertz is an access channel and technology agnostic cloud computing (BaaS/MBaaS, PaaS) service provider. They have taken an ecosystem approach where they want to provide Mobile, Web, Social, SaaS, TV and Gaming App developers a One-Stop-Shop for all their Cloud needs. App42 product line also offers App42 Cloud API – Backend as a Service AppWarp – Multiplayer Engine and soon to be launched App42 PaaS
Reach them at:
Sales - sales(at)shephertz(dot)com
Twitter : @shephertz