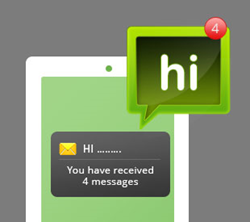 Siddhartha Chandurkar, CEO & Founder, ShepHertz said, "We observed, majority of app publishers have a long list of inactive users who download their apps & forget. Offering reminders to such customers using our Push service will encourage engagement."
(PRWEB) May 28, 2014
ShepHertz has swiftly enhanced its 'Push Notification' service, which is a novel approach to re-engage the inactive users. Their commendable service allows Indies, game studios and developers to interact with the targeted set of customers who have downloaded the app but don't use it. As people tend to invest more of their precious time on apps, the very significance of push notifications also shoots up.
Push service of ShepHertz does not require any extra code or necessity to update the app or games and hence saves a lot of time. This also leads the developers to focus on the other vital areas of the App, which can prove out to be profitable for them. It is an imperative manner for the marketers because these alerts can help increase traffic, optimize app use and drive conversions. With the increase in the number of app users, the rendezvous with brand and organisation too raises.
Backed by the most competitive team of genius brains, ShepHertz has once again grounded a strong foothold in the world of technology.
About ShepHertz
ShepHertz is a Cloud Ecosystem Provider for Apps i.e. Mobile, Web, Social, Gaming and TV Apps. Its endeavour is to make App developers successful on the Cloud, irrespective of the technology or platform on which they are developing. Their product line provides one-stop-shop ecosystem for developing Apps on the Cloud and it consists of App42 Cloud API – BaaS (Backend as a Service), AppWarp- Multiplayer Gaming Engine, App42 PaaS with App42 BPaaS & GPaaS solutions.