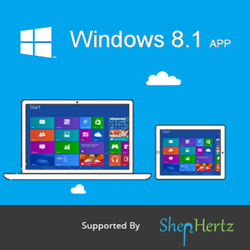 (PRWEB) May 29, 2014
App42 BaaS (Backend as a service) from ShepHertz , has added Windows 8.1 to its list of supported app platforms. This allows developers to use backend services such as User Management, Push notifications, Leaderboards etc. from their Apps targeted for the newly released Windows 8.1. App42 already supports the popular mobile platforms from Microsoft i.e. Windows Phone 7 and Windows Phone 8.
The Windows 8.1 is the latest operating system from Microsoft. It is designed to work on both PCs and tablets so it operates with the traditional mouse/keyboard devices as well as touch. According to the company, it offers a wide range of enhancements and features in security, usability and productivity. It comes with a new task manager and streamlined file management. The Windows App Store is an important part of the ecosystem and it already has over 100,000 Apps.
With this launch, ShepHertz empowers developers to leverage its complete backend services in their Windows store apps and games. This also includes the support for it popular cross-platform NoSQL storage and leaderboard APIs. These services allows developers to build a wide range of applications including async games. Strong A/B Testing and Analytics support are also provided. It is a vital tool for app developers in making the end-users more engaged to their applications and is one of the most heavily used backend services.
Developers can learn more about the integration with App42 backend on Windows 8.1 and get started by visiting the Windows 8.1 integration page on ShepHertz website.
About ShepHertz
ShepHertz is a Cloud Ecosystem Provider for Apps i.e. Mobile, Web, Social, Gaming and TV Apps. Its endeavour is to make App developers successful on the Cloud, irrespective of the technology or platform on which they are developing. Their product line provides one-stop-shop ecosystem for developing Apps on the Cloud. Their Product line consists of App42 Cloud API – BaaS (Backend as a Service), AppWarp- Multiplayer Gaming Engine, App42 PaaS with App42 BPaaS & GPaaS solutions.