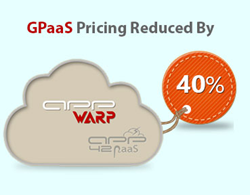 (PRWEB) May 29, 2014
ShepHertz publishes its "Happy Customers Pricing Policy" for GPaaS. It is a matter of pride for the company that its products are renowned and well appreciated by customers spread across the globe. Flying at pace with concurrent Cloud trends, the company has made a strategic move by substantially minimizing its prices. For users, now the services have become more cost effective and offer better value for money.
Gaming Platform as a Service, abbreviated as GPaaS is a specialized hosting environment for AppWarp S2, a Game Server Application. Rather than spending hours and sleepless night worrying about deployment, developers can now set up and run their Apps in an instant with minimum effort. Along with this, another advantage for app and game developers is that it will also keep them away from the complex work at much economical rates.
"Happy Customers Pricing Policy" offers 40% markdown for GPaaS, which will be made effective from June 1, 2014. Well, this is just not it, as soon they will be reducing the figures for other services as well like PaaS & BPaaS, supported by App42 PaaS.
About ShepHertz
ShepHertz is a Cloud Ecosystem Provider for Apps i.e. Mobile, Web, Social, Gaming and TV Apps. ShepHertz' endeavour is to make App developers successful on the Cloud, irrespective of the technology or platform on which they are developing. Their App42 Product line provides one-stop-shop ecosystem for developing Apps on the Cloud. Their Product line consists of, App42 Cloud API – BaaS (Backend as a Service) and AppWarp- Multiplayer Gaming Engine and now it includes App42 PaaS with App42 BPaaS & GPaaS solution.