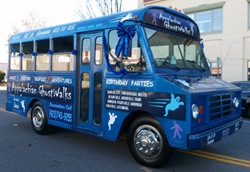 "Appalachian GhostWalks is Humor and History, Emotion and Education... Absolutely Entertaining, Edifying, and Enchanting!"
Johnson City, TN (PRWEB) June 08, 2014
Located in an area of the country where old Revolutionary period towns dot the countryside, populated by buildings that pre-date the Civil War, Appalachian GhostWalks introduces the first ongoing bus tours for couples, families, and groups ever presented in the region. Area visitors enjoy a variety of entertainment and activities during their stay, which in addition to an amazing assortment of thrilling tour excursions, include whitewater rafting, caving, horseback riding, gem mining, plays, museums, and more.
Appalachian GhostWalks' Founder and Tour Director is Allen McGee, whose work in the paranormal began more than twenty years ago with the first Season Premier of "The X-Files". According to him, children and adults alike are extended a humble and heartfelt invitation to discover the findings of both historical and scientific research into the past within an area of the country now recognized by Congress as "America's First Western Frontier".
In Historic Districts throughout Northeast Tennessee and Southwest Virginia, visitors will discover amazingly preserved communities, which appear more akin to those now abandoned old country-western "ghost towns" of the great American southwest than the modern cities of the day.
Helping to plan your visit from the point of departure to the return home, Appalachian GhostWalks makes your journey into the past a remarkably unforgettable experience. Visitors can choose from a romantic bed and breakfast, which may, or may not be spirited by the "people of the past", to a Four Diamond Triple 'A' Hotel - all at a tremendous discount when combining their stay with tour excursions that will whisk you away to the area's many haunted hotspots to include both State and Federal Historic Sites, theatres, mansions, museums, and caves.
Appalachian GhostWalks Tour Director, Allen McGee, who again has explored the region's past for more than twenty years, said in a recent interview that the tours only feature buildings and properties that have been found to have a high frequency of unexplained incidents. According to Director McGee, many of the company's past guests, while on tour with them throughout the region, have been touched by an unseen hand, will hear voices, see the shades pulled back, and record aw-inspiring photographs with their camera.
"Complementary transportation is provided from our guests' arrival to their departure home with all Appalachian GhostWalks full-day vacation packages. This means visitors won't have to touch their vehicle again during the entire visit. It's like going on a cruise," said Director Allen McGee. He continued by saying, "Our guests are treated as individuals with many new surprises built into each and every day's fun, family appropriate, haunted history adventure."
Many people have ask the company, "Is this going to be too scary for my kids?" According to the company's website, located online at http://www.AppalachianGhostWalks.com - all tours are appropriate for ages five and up and are designed to be a positive look into an area of Human experience that all too often is associated with fear. McGee said, "Most of the time, our children just can't stop talking about the experiences they share. Not only do they learn much in the way of our Nation's storied past, but we prefer to think of our single evening tours as well as our fully planned haunted vacation packages as humor and history, emotion and education - absolutely entertaining, edifying, and enchanting."
Most tours presented by Appalachian GhostWalks, as the name is inclined to suggest, elaborate on the bone-chilling findings of skilled and experienced investigators as pertaining to the history and hauntings of many of the area's historic buildings and properties.
However, as one of - if not the first tour ever presented of its kind anywhere in North America, the "Cherokee Bigfoot Adventure Tour" expounds on decades of documented experiences with the creature along with one of the most historically accurate presentations on the subject yet presented. In addition, visitors will thrill to more than 500 years of Cherokee folklore, history, and legend - all set to the beat of Native American flute and drum as you hear about investigations into the creature's appearance in their own mountainous areas of the country.
Perhaps the best part of all this is the fact that a percentage of the company's annual profits go to benefit Saint Jude's Children's Research Hospital.
Full details and information on all of the company's offerings can be explored online, or interested parties may call (423) 743-WALK (9255) to speak with a reservations specialist who will be most happy to help callers design the perfect alternative getaway as they explore the mysteries of East Tennessee and Southwest Virginia.