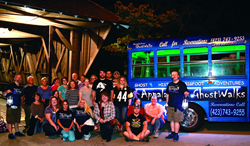 Appalachian GhostWalks is a year-round, family fun, haunted history and mountain mysteries adventure!
Johnson City, Tennessee (PRWEB) October 17, 2015
Appalachian GhostWalks, an East Tennessee Ghost History and Bigfoot tour and vacation company, offers unique family fun mountain history and mysteries adventures, appropriate for ages five and up. Tours and vacation packages described fully on the companies extensive website at AppalachianGhostWalks.com, operate year-round, has now been recognized by one of the nation's best known media outlets. Nominated by USA Today's 10Best, Appalachian GhostWalks was voted the number two spot coast to coast, receiving the "Reader's Choice" Travel Award.
The 10Best Readers' Choice Award contest launches new categories every other Monday at noon, revealing each category's 20 nominees. After 4 weeks of voting, the contest closes on the 28th day at noon. On the Friday after voting ends, winners are revealed. Rules allow the public the right to vote online for one nominee per category, per day.
Nominees for all categories are chosen by a panel of relevant experts which include a combination of editors from USA TODAY; editors from 10Best.com; relevant expert contributors; and sources for both these media and other Gannett properties. The nomination panel for each award category is displayed on its associated contest page. All voting is digital and the 10Best Readers' Choice Award contest is accessible on the 10Best.com website.
While the 10Best Readers' Choice Award contest lives on 10Best.com - a standalone travel media site - it is promoted across USA TODAY Travel Media Group's digital and mobile products, as well as via social media. Nominees are also announced and/or promoted across relevant USA TODAY departments, and through Gannett media outlets, including the websites of its 81 local newspapers and 43 television stations.
10Best.com provides users with original, unbiased, and experiential travel content of top attractions, things to see and do, and restaurants for top destinations in the U.S. and around the world. The core of the site's uniqueness is its team of local travel experts: a well-traveled and well-educated group who are not only experts in their fields - and their cities - but discriminating in their tastes. These local experts live in the city they write about so the content is constantly updated. In 2012, 10Best.com averaged more than 700,000 monthly unique visitors generating approximately 28 million page views. It was acquired by USA TODAY in January of 2013.
Travelers as well as local and regional residents interested in participating in Appalachian GhostWalks family fun adventure tours and Mountain Mysteries Vacation Packages are invited to visit the website. Here, visitors may obtain additional information and make safe and secure reservations online, or call (423) 743-WALK (9255) to speak with a reservations specialist.