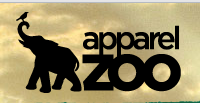 Los Angeles, CA (PRWEB) April 11, 2014
Apparel Zoo has announced that it has added items from several urban fashion and streetwear brands to the inventory available for sale on its website. LAD Solutions has been chosen to make the announcement about the additions in order to increase the number of sales and visitors to the website.
Apparel Zoo has recently added the following brands to its website: BLKSOX, Primitive, Married to the Mob for women, DimePiece LA for women, and Civil Clothing for women. All of these brands reflect the latest trending items in urban fashion on the West Coast.
BLKSOX items that are featured on the Apparel Zoo website include bold printed crew socks with a number of instantly recognizable prints. These printed socks are designed to stand out as part of a unique outfit from Apparel Zoo.
The items that are available for women from Married to the Mob include tanks, shirts, hoodies, pants, beanies, snapback hats and more. Designs from this brand have been worn by celebrities such as Fergie and Lady Gaga.
The DimePiece LA items that are available for women on the website include loud t-shirt designs with snarky sayings, leopard print hats, cat t-shirts and more. These items are designed to appeal to a person looking to create an uninhibited style.
The items that are currently available on the website from Primitive include men's hats and t-shirts. A limited number of styles are currently available. Apparel Zoo has not specified if additional items will be added from this brand.
Civil Clothing items that are available for women on the Apparel Zoo website include beanies, snapback hats, sleeveless tees and more. All of these items feature bold designs that are intended to be raw and edgy.
The various items from each of these brands are currently available on the Apparel Zoo website and are in stock. Apparel Zoo has not yet notified customers as to how long the new brands and items will be available for sale.
The company is encouraging customers to place orders as quickly as possible before stocks of items run out. Apparel Zoo updates its inventory and available brands on regular basis. If customers have specific questions about the brands available or placing an order, Apparel Zoo has requested that they send the company an email or call the customer service number directly.
About Apparel Zoo: Apparel Zoo is a Los Angeles based retailer of urban fashion attire. The company was founded based on the principle of always staying on top of the latest trends in the West Coast urban fashion scene. Apparel Zoo offers some of the top brands in urban fashion including The Hundreds, Trukfit and Sneaktip. To learn more about the brands offered by Apparel Zoo, visit the company website at apparelzoo.com.