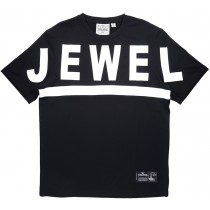 Los Angeles, CA (PRWEB) November 02, 2016
Apparel Zoo has recently added Lil' Boosie's new clothing line, known as Jewel House, to the list of trending clothing brands available online. This announcement has been made in order to notify customers that the items are available for sale now.
Apparel Zoo is a leader in urban fashion brands and has featured many clothing lines from popular rappers, skaters, and up and coming streetwear brands. As a pioneer in retail for West Coast fashion trends, Apparel Zoo has been providing the latest urban fashion brands for over a decade. With the addition of these new items from Jewel House, Apparel Zoo has some of the latest designs in menswear.
The collection includes 25 different items from denim jackets to hoodies, short sleeved shirts, and sweatshirts. What makes this line unique is that Lil' Boosie has actually worn the items featured in the line in various public appearances. He also promotes the brand on his dedicated Twitter and Instagram accounts at @Jewelhousebrand. In addition, the clothing options are suited for the cooler weather months with both long sleeved and short sleeved shirts available.
Lil' Boosie says that the name for the line comes from his "house of Jewels" which refers to his family. To him, Jewel House is representative of his clean lifestyle and what he thinks that people should wear in order for them to be seen at their "cleanest." Jewel House offers many clothing options that are designed to be the perfect fit for major events.
In addition, these items are available in many different pattern and color options, with some featuring the Jewel House logo prominently, as well as, other items that have included the logo more discretely. The items are also designed to appear to a variety of personal styles, from creative designs that could be considered motorcycle gear to streetwear staples.
Apparel Zoo is currently featuring these items for a limited time on the company website. The current inventory is expected to be available while supplies last. For customers that want to purchase items from the new line, Apparel Zoo recommends visiting the website or calling to check stock availability for the Jewel House collection.
About Apparel Zoo
Apparel Zoo is one of the West Coast's most well-known retailers for streetwear. As a company based in Los Angeles, California, the company has customers across the United States. With items available from popular and indie brands, such as Adidas, PUMA, Pink Dolphin, and Grizzly Griptape, they are one of the first retailers to feature Lil' Boosie's Jewel House clothing line. To find out more about the new products that are available at Apparel Zoo from Jewel House, visit the online store at apparelzoo.com.