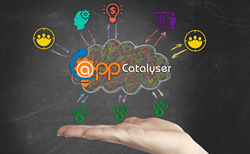 Turn your dream mobile app ideas into reality
Houston, Texas (PRWEB) September 03, 2014
Crowdfunding, the practice of fundraising ideas from a large number of people using online services, is quickly becoming popular among the masses. Currently accepted as a means to back social welfare and cultural projects, crowdfunding is now finding its place in the mobile application space. The money raised through the campaign is then used to turn wonderful ideas into reality.
Being a crowdfunding platform, App Catalyser plays an outstanding role in the creation of new ideas by bringing common people with killer mobile app ideas together with developers and backers. App Catalyser aims to become the biggest platform in the world by connecting mobile app innovators and fund-backers to turn novel mobile app ideas into real, functional apps. App Catalyser bridges the gap between the crowdfunding and mobile app industries.
In the exponentially growing crowdfunding and mobile app industry, some of the best app ideas die out due to lack of funding and skills with innovators. App Catalyser answers all questions raised by innovators, such as "How can I raise money for app ideas?" "How can I make an app?" or "How can I turn mobile app ideas into reality?"
AppCatalyser.com – How It Works
Registration for the website is free of cost, and it is where "Innovators" (those with an idea of an app or a concept) can post their ideas while "Backers" browse through and fund an app idea of their choice and get exciting rewards.
With no limits on the number of backers that can fund an app idea or concept, the opportunity of seeking that crucial funding at an early stage has been made possible with App Catalyser. Innovators can post their app ideas for any platform, including Android, iOS, Windows Phone, Blackberry and Amazon Kindle.
"We believe that every person has a dream. With support, these dreams can become reality. App Catalyser encourages such people to present their mobile app ideas. This is not just limited to individuals … enterprises and developers who are looking for funding for their app can use the service as well," said Ritesh Dembani, the Head of Product & Engineering of App Catalyser, Inc.
Another service provided by App Catalyser is the "refer-a-friend" program, which ensures that every successful app referral is rewarded an additional percentage of the total funding from that app.
To learn more about App Catalyser, visit http://www.appcatalyser.com
About App Catalyser
App Catalyser, Inc. is based out of Houston, Texas and was set up with a vision to add value to the mobile crowdfunding space. Focusing specifically on the ever-growing mobile app development environment, App Catalyser Inc. leverages the power of crowdfunding at the same time encouraging people to come up with their
Ideas.
App Catalyser Inc.
2640 Fountain View Dr
Suite 209
Houston, Texas, 77057