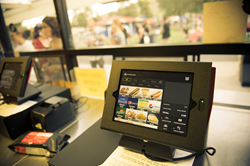 Appetize makes concession payment faster and easier, allowing people to spend more time enjoying the show they've come to see. We are happy to be working with them to help enhance the concert-going experience
Los Angeles, CA (PRWEB) October 06, 2015
Appetize, a leading cloud based enterprise point of sale (POS) solution, has been engaged by Live Nation Entertainment, the world's largest live entertainment company, to roll out its innovative payment platform across 32 of the company's U.S. venues. The contract involved the installation of over 4,400 fixed and handheld point of sale units across 25 U.S. amphitheaters and seven indoor venues over the summer, outfitting all concessions, and premium and portable areas of the venues with Appetize's full suite of POS products.
Amphitheaters such as Shoreline Amphitheatre, Nikon at Jones Beach, and the brand-new Ascend Amphitheater in Nashville, as well as theaters such as the Fillmore Auditorium in Denver and The Masonic in San Francisco are among the venues that have taken advantage of Appetize's innovative mobile and stationary POS systems built to handle high volume and multi-location deployments.
Appetize represents two of the fastest growing subsets of technology: point of sale and mobile payments — a market projected to grow by 400% over the next four years*. The Appetize platform differentiates by offering a faster, easier-to-use front-end, and a sophisticated backend suite of reporting, inventory, and timekeeping tools — all while maintaining the highest level of payment security and encryption.
"We are immensely proud of our engagement with Live Nation and excited about the success our system has had in the amphitheater environment," said Kevin Anderson, Co-Founder and VP of Business Development at Appetize. "It's certainly rewarding to see our entire line of products bringing innovation to such a broad network of venues operated by the biggest live entertainment company in the world. Appetize has combined the best parts of the legacy and mobile POS worlds to create a new kind of modern, enterprise point of sale solution."
"Live Nation is always looking to elevate the fan experience at our live events," said Mark Campana, Co-President of North America Concerts. "Appetize makes concession payment faster and easier, allowing people to spend more time enjoying the show they've come to see. We are happy to be working with them to help enhance the concert-going experience."
Appetize has shown rapidly growing market penetration and its ability to increase sales and provide powerful analytics has been proven beyond Live Nation, at over 250 entertainment properties, including Madison Square Garden (Knicks, Rangers), SunLife Stadium (Dolphins) and over 45 PGA Tour stops.
About Appetize
Appetize is a fast growing and disruptive technology company that is steadily replacing legacy point of sale transaction systems in the sports, entertainment, and hospitality enterprise space with its proven payments platform. The company's top notch client roster includes venues like Madison Square Garden, SunLife Stadium, and The Best Buy Theater, and entertainment events like Governors Ball and over 45 PGA Tour stops, Appetize is backed by a strong lineup of notable players including Guggenheim, the Jacksonville Jaguars and San Francisco 49ers family offices, Marc Geiger of William Morris, and Roar Entertainment. Appetize was established in 2011 and is headquartered in Los Angeles.
*451 Research: Global mPoS installed base to quadruple to 54 million units by 2019