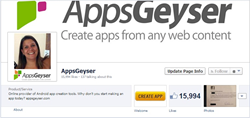 With the tips that AppsGeyser provided I have managed to raise my audience level once again.
(PRWEB) April 17, 2014
Social media marketing is the key to success for many businesses including Android app businesses. AppsGeyser has been providing Android app makers with the tools to create successful app businesses for over three years, but creating an app does not always equate to success if a business is not effectively marketed, therefore AppsGeyser has taken the initiative to educate Android app makers on the importance of social media marketing.
Facebook remains the most commonly used social media tool by many businesses, both big and small; however, in recent months there have been drastic changes in the way Facebook pages work and the organic reach for many has decreased dramatically. AppsGeyser has released the details of some of the most popular tricks to encourage and increase the organic reach on their blog, these tips include: encouraging interaction with the Facebook fan page audience. For more information on increasing the organic reach and page views for your Facebook fan page, click here.
Jackie Farral excitedly explained to us, "I am an avid Facebook user but I was discouraged recently when I noticed that my page reach had been drastically reduced. With the tips that AppsGeyser provided I have managed to raise my audience level once again."
AppsGeyser Co-founder Vasily Salomatov, explained, "Appsgeyser provides free Android app making tools, this encourages those that cannot afford developers to create an app and start a new business, however, if the business is not marketed effectively then our tools are useless, this is why we decided that it was so important to provide our Android app makers with marketing advice, including advice on the use of social media marketing."
About AppsGeyser
AppsGeyser, launched in February 2011, is a fast growing Android app creation platform. AppsGeyser enables users to create apps for Android devices from any web content in under five minutes. AppsGeyser has seen more than 885,000 apps created on its platform. There have been more than 654 million downloads of its apps.