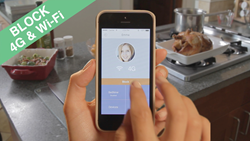 "Appiom provides overwhelmed parents with critical control over home network and mobile connections making it easier to manage when and how their kids can access the Internet," said Linda McCarthy, author & former director of Internet safety at Symantec
Los Gatos, Calif. (PRWEB) November 19, 2014
Three high-tech dads from Silicon Valley are giving fellow parents something to rejoice about: Finally, a simple and easy way to regain control of kids' home Internet and mobile 4G/LTE data device usage – even when parents aren't home. Appiom is an innovative home WiFi network management hardware device and mobile application package that gives parents IT Director-like power in the palm of their hand.
Why Parents Need Appiom
Among the many eye-opening facts about teen and tween Internet use identified by a 2013 McAfee study:

74 percent of parents simply admit defeat and claim that they do not have the time or energy to keep up with their children and hope for the best.
46 percent of youth would change their online behavior if they knew their parents were paying attention.
"Appiom provides overwhelmed parents with critical control over home network and mobile connections making it easier to manage when and how their kids can access the Internet," said Linda McCarthy, former senior director of Internet safety at Symantec and author of multiple books promoting teen Internet safety, including Own Your Space: Keeping Yourself and Your Stuff Safe Online and Digital Drama: Staying Safe while Being Social Online. "Best of all, Appiom empowers parents to instill healthy online habits and foster a balanced Web experience for their children."
Parents Will Find Many Helpful Uses for Appiom
Whether at home or not, Appiom provides parents with easy-to-use and extensive control over all devices assigned to a home network and each child's mobile phone 4G/LTE data capabilities with just a few taps of a finger:

Want the kids at the dinner table or doing homework? Block Internet access for all of their devices on the home network including PCs, phones and tablets; plus, restrict video game console access to online services.
Might a tech-savvy teen simply switch to mobile data when WiFi Internet connection is blocked? Then block 4G/LTE data, too. With Appiom, parents can control all data flow to their family's devices.
Sometimes kids need access to the Internet for homework, but parents don't want them being distracted by addictive mobile applications. Appiom enables parents to block some of the most popular individual Apps, while still allowing access to websites needed for homework.
Prefer kids not access Internet TV while the parents are not home? Don't let them. Remotely switch off Internet access for web-enabled televisions and streaming devices.
Plus, if Appiom is unplugged or damaged, it sends an immediate alert to the parent's mobile phone. Yes, Appiom has every parent's back, too.
Appiom is superior to other home Internet device management solutions on the market in several ways:

Architected to avoid router dependency issues, Appiom requires no router configuration – it has been tested to work with a wide variety of routers, including those from Internet Service Providers.
Appiom's use of an innovative network hardware device and cloud-based mobile application removes the need to install software on the individual devices to be managed.
Additionally, Appiom gives parents the unique ability to control their children's use of individual apps over Wi-Fi and also block Internet access over mobile 4G/LTE networks with the touch of a finger – all within the same mobile application.
Kickstarter Crowdfunding Campaign
In order to raise the funds necessary to mass produce the Appiom hardware device and build a world-class customer support infrastructure for the application service, Appiom is running a 30-day crowdfunding campaign on Kickstarter through the morning of December 18, 2014. More information about Appiom, its co-founders (dads of teens and tweens themselves who just happen to be experienced technology professionals) and special perk packages available to "early bird" backers can be found at http://kck.st/1uF3IQi.
About Appiom
Appiom is a provider of cloud-based software as a service (SaaS) solutions that help today's busy parents control their home Internet experience with easy and intuitive mobile communications. Appiom, Inc. is a Delaware registered corporation headquartered in Los Gatos, California. For more information, visit Appiom.com or follow Appiom on Facebook/MyAppiom or on Twitter @Appiom.