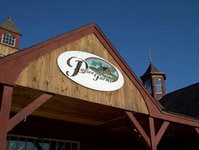 Tyngsboro, MA (PRWEB) September 05, 2013
Parlee Farms (http://parleefarms.com), a Boston area family farm and apple orchard, has started its 2013 apple picking season.
"Pick your own apples season is by far our busiest season here at Parlee Farms and we're very excited to get started! Apple picking is a New England family tradition and we are honored to be a part of that," said Ellen Parlee, owner of Parlee Farms in Tyngsboro, MA.
The Parlee Farms apple orchard covers over fourteen acres and is comprised of dwarf apple trees. These trees might be small in stature but they produce large, delicious apples! The size of the apple trees also makes it easier for small children to reach and pick the apples themselves. From late August through October, Parlee Farms has over 20 varieties of New England apples available including Macintosh, Gala, Early Fuji, Macoun, Cortland, Royal Empire, Decoster Jonagold, Cameo, Golden Delicious, Ginger Gold, and Mutsu. Even with all these great varieties, the most popular apple and the one that makes up over 30% of the orchard is Honey Crisp – a juicy, sweet apple with explosive crispness. It is usually ready for picking by mid-September.
On weekends, a hayride out to the apple orchard is included in the price of an apple bag. Once a visitor is done picking apples, a hayride will bring them back to the Farmstand, a post-and-beam barn that offers current pick-your-own crops fresh picked and ready to take home. Visitors can also watch homemade apple cider donuts being made at the Farmstand. These donuts were voted "Best Cider Donut in New England" by the viewers of New England Cable News.
Additional attractions for visitors to enjoy at Parlee Farms during an apple picking trip include Mary's Country Kitchen, Annie's Animal Barns, Farmer Mark's Tractor Training Course, and the Hay Play Area. Mary's Country Kitchen offers warm homemade apple crisp and hot cider, among other delicious fall treats that can be enjoyed at one of the many picnic tables located at the farm. Annie's Animal Barns includes two barns filled with young farm animals including baby goats, sheep, chickens, and bunnies to feed and pet. Farmer Mark's Tractor Training Course is a children's tractor ride that gives young visitors a chance to drive electric tractors around a track. The Hay Play Area is a space where children and families can weave through a maze of over 150 large, round hay bales.
The apple varieties that are currently available for pick your own or fresh picked in the Farmstand are posted daily on the Parlee Farms website at: http://parleefarms.com/current.html. Current conditions are also listed daily on the Parlee Farms Facebook page: https://www.facebook.com/parleefarms.