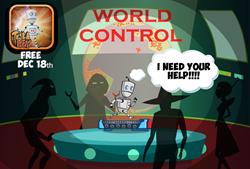 As the hero progresses through the story Tesla Boy mechanics are transformed into an adventure platform game similar to Super Mario Brothers
San Francisco, California (PRWEB) December 17, 2013
Dream Bot Studios officially announced today Tesla Boy will be available on December 18th, 2013. The adventure game will be available on iOS and Android to be download in all app stores.
The company has stated, "If the press would like art, video, assets or interviews for the review, they can go to the Tesla Boy press kit page." There will be a limited amount of promo codes available to share before the December 18th launch. Be sure to visit the Tesla Boy game page for new contests, videos, and community updates.
Set in the world of Robirth, Tesla Boy is an adventure style running game in which the hero asks, "Why does Tesla Boy just run?" As the hero progresses through the story and meets new characters, the game mechanics are transformed into an a completely new adventure platform game.
For only a few players of Tesla Boy, they will uncover the mysteries of the evil robotic and possibly meet Tesla Bot 001, the first robot created who will be able to give players a magical power source that begins Tesla Boys transformation. This is the 1st chapter of the story for players to experience and will be available on December 18th in iTunes, Google Play, and Amazon App Store.
In order to stay up to date with new media and updates before Tesla Boy is live press partners may follow Dream Bot Studios on Facebook or connect on Twitter.
One would also be able to send any questions or comments to support(at)dreambotstudios(dot)com.