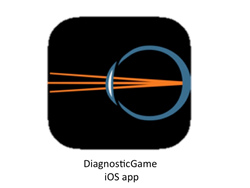 "Brightness rivalry may be the most sensitive and specific method to detect amblyopia" said Dr. Steven Kane
MIAMI BEACH, Fla. (PRWEB) December 27, 2018
Yes, there is a better way to detect Lazy Eye (amblyopia) in young children! Established screening techniques for amblyopia have proven inadequate and today amblyopia is the leading cause of permanent vision loss in children and young adults.
Steven Kane, MD, PhD of Columbia University in a poster at the American Academy of Pediatrics on November 5, 2018 reported an entirely new concept for amblyopic screening using rivalrous comparison of the brightness sense between the amblyopic eye and normal eye. 286 elementary students were tested using the new self-testing DiagnosticGame app on an iPad. In 96.6% of students, the iPad "Game" was successfully completed and sorted out those with amblyopia. Dr. Kane states, "Brightness rivalry may be the most sensitive and specific method to detect amblyopia".
Albert Hofeldt, MD is the inventor of the DiagnosticGame app, which is detailed in US patents 9,089,257 (Binary Choice Self-Testing) and 9,560,960 (Amblyometer) and based on his earlier research showing that the brightness sense is reduced in an amblyopic eye. Dr. Hofeldt, an ophthalmologist and president of AMA Optics, Inc. states, "When diagnosed early, amblyopia treatment is generally successful, the real problem is early diagnosis."
According to Dr. Hofeldt, his self-testing amblyopia-detecting app is inexpensive (20 cents/test), fast, easy to use and enjoyable as a video game. Schools and pediatricians are the gateways for detecting amblyopia and using the DiagnosticGame app at these gateways has the potential of removing amblyopia as the leading cause of permanent vision loss for children in USA.
For more information on AMA Optics, Inc., visit http://www.amaoptics.com