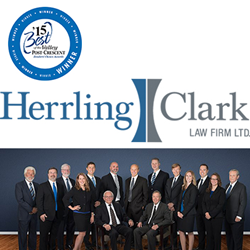 "This recognition comes from the community, and from the people we serve. There is no higher award or honor and we are so grateful to everyone who supports us and recognizes Herrling Clark as the Valley's Best Law Firm," says President Kevin Lonergan
Appleton, WI (PRWEB) November 04, 2015
Herrling Clark Law Firm, Ltd. is proud to announce that the firm has been named the "Valley's Best Law Firm" for the 12th straight year. The firm received the honor through the 2015 Best of the Valley Post-Crescent Readers' Choice Awards.
"Although our firm, and individual attorneys within the firm, have received many accolades and awards over the years, we are most proud about being recognized as the Valley's Best Law Firm. This recognition comes from the community, and from the people we serve. There is no higher award or honor and we are so grateful to everyone who supports us and recognizes Herrling Clark as the Valley's Best Law Firm," says Firm President Kevin Lonergan.
Herrling Clark Law Firm, Ltd. has been serving clients in the Fox River Valley since 1959. The firm offers high-quality legal services within the practice areas of personal injury, family law, estate planning, real estate, and business litigation. The Appleton attorneys at Herrling Clark Law Firm, Ltd. have over 200 years of combined legal experience.
The firm's unparalleled work has been recognized by numerous legal organizations including: Super Lawyers, Avvo.com, The National Association of Personal Injury Attorneys (NAOPIA), Martindale-Hubbell, and the National Trial Lawyers Association. The firm also carries a legacy of courtroom success as the veteran trial lawyers have successfully handled some of the largest and most complex civil litigation cases in Wisconsin.
Herrling Clark Law Firm, Ltd. represents clients from four convenient offices located in Appleton, Green Bay, New London, and Oshkosh, Wisconsin. To schedule an initial consultation with a skilled Wisconsin attorney call (920) 739-7366 or visit the firm's website to fill out the online contact form.