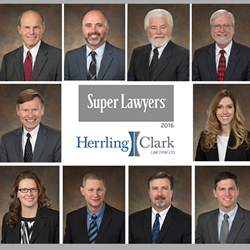 Ten Attorneys from Herrling Clark Law Firm Ltd. have been recognized by Super Lawyers for their outstanding professional achievements in the state of Wisconsin.
Appleton, WI (PRWEB) December 11, 2016
Herrling Clark Law Firm, Ltd., located in Appleton, Wisconsin, is proud to announce that 10 attorneys have been recognized by Super Lawyers based on their outstanding client service and professional achievement.
Super Lawyers, a Thomson Reuters organization, is a well-known attorney rating service, which recognizes attorneys across the country on an annual basis. Lawyers are evaluated based on 12 indicators of peer recognition and professional achievement. The selection process includes nominations, independent research, and peer evaluations. Only five percent of lawyers in Wisconsin are named Super Lawyers, and only 2.5 percent of lawyers in the state are chosen as Rising Stars. The Rising Stars list is comprised of attorneys who are 40 years old or younger or have been practicing for 10 years or less.
The seven attorneys receiving the Super Lawyers distinction include: Kevin Lonergan, John D. Claypool, Greg P. Curtis, Michael S. Siddall, Charles D. Koehler, Richard T. Elrod, and Robert B. Loomis. This year marks the 10th consecutive year that Claypool has been named to the Super Lawyer list. Additionally, Siddall and Lonergan, were recognized among the "Top 50" attorneys in the state of Wisconsin.
Attorneys Kristen S. Scheuerman, Andrew J. Rossmeissl, and Kelly S. Kelly were named 2016 Super Lawyers Rising Stars.
About Herrling Clark Law Firm, Ltd.:
Herrling Clark Law Firm, Ltd. has served the Fox River Valley since 1959. The Wisconsin law firm is dedicated to providing compassionate and effective legal representation. The attorneys at Herrling Clark Law Firm, Ltd. handle cases pertaining to personal injury, family law, wills and trusts, probate, and business law.
For more information on Herrling Clark Law Firm, Ltd. and its distinguished attorneys call 920-739-7366 or visit http://www.herrlingclark.com.