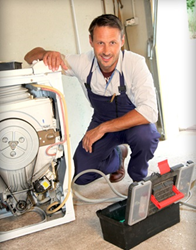 Dallas, TX (PRWEB) April 18, 2014
Appliance repair technicians in Dallas - Fort Worth, Texas are preparing for what is expected to be a very busy summer. The shop is ramping up its efforts to provide the best repair services on all models of home appliances. This comes in response to an overwhelming demand for repair technicians around the DFW area. For more info call 972-607-9840 or visit DallasReconditionedAppliances.com
The appliance store currently has a storefront area with a showroom for customers who want to buy reasonably priced used and fully reconditioned appliances. The showroom area recently had the carpet pulled up to lay down some nice new flooring for the customer display area.
This move comes as an increase of traffic has boosted business for the busy shop. Several customers have commented on how repairs can sometimes be less expensive than buying a reconditioned appliance. Usually the parts and labor don't add up to too much making it more cost effective.
Anyone looking for appliance repair in Dallas can get washing machine, dryer, and refrigerator repair done fairly quickly and at an affordable price. It should be noted that some appliances are so old that finding parts can sometimes be difficult in which case buying a reconditioned or used appliance might be the better option.
In an effort to provide the best appliance repair in Fort Worth, Texas the shop is giving free estimates for anyone that brings the appliance in to the store. Appliance repair technicians with years of experience will look the machine over and make the best suggestion for each situation. For more info call 972-607-9840 or visit DallasReconditionedAppliances.com