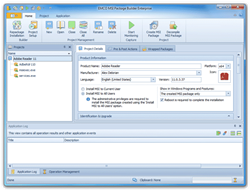 The new version of EMCO MSI Package Builder features a new user interface focused on simplifying repackaging and MSI generation tasks.
San Francisco, CA (PRWEB) January 31, 2014
EMCO Software, a provider of application packaging and software distribution solutions for Windows, has announced the release of EMCO MSI Package Builder 5. The application is designed for network administrators and IT professionals who need to repackage existing non-silent installations into silent MSI packages and to create custom MSI packages with system changes ready for remote unattended deployment.
The new version of EMCO MSI Package Builder includes a new installation monitoring engine. This engine allows capturing file system and registry changes performed by the running Windows processes to generate an MSI package containing the captured changes. The new monitoring engine includes Intellectual Assistant that analyzes the integrity of the captured data and helps administrators to resolve problems if any are detected. Also, the engine can automatically stop monitoring when the monitored installation is finished. It guarantees that the capturing results include only the required changes.
Another feature introduced in the new version of EMCO MSI Package Builder is installation repackaging by wrapping. As opposed to monitoring, the wrapping feature preserves the original installation files by wrapping them into an MSI package. It is possible to wrap either a single package or multiple packages at once into a single package. Wrapped installations are expected to support silent deployment. To wrap installations, network administrators should specify the installation files and command-line parameters passed to the installations that activate silent deployment. When the generated MSI package is deployed, it installs the wrapped packages silently. Wrapping is a preferred approach for repackaging complex installations such as drivers and system software that cannot be repackaged using the monitoring approach.
The new version of EMCO MSI Package Builder features a new user interface focused on simplifying repackaging and MSI generation tasks. The application has a new repackaging wizard that guides the user through the installation repackaging process by displaying detailed explanations of every step and the required settings. One of the important features introduced in the user interface is the Ribbon menu designed to simplify the process of selecting the required options. Also, all data editors have been reworked and improved to allow quick editing of MSI data and settings.
"Using the new version of EMCO MSI Package Builder, network administrators can repackage multiple installations into a single MSI package. This feature is available not only for the wrapping method but also for installation monitoring. Besides, administrators can customize the created installations to modify any file system, registry, Windows services and environmental variable changes and configure custom actions to be performed before or after the MSI installation. This feature allows customizing any existing installation according to the requirements", Thorarinn Oskarsson, CEO at EMCO Software, says.
Product Information
For detailed information on the application features, refer to the EMCO website where you can find information on how to create an MSI package and how to convert EXE to MSI.
Pricing and Availability
EMCO MSI Package Builder is available in two editions: Professional and Enterprise. Both editions include the changes monitoring features that can be used to convert non-silent installations into silent MSI packages. The Enterprise edition features the advanced monitoring technology, which allows repackaging of installations that deploy Windows services. Any edition of the application may be evaluated for free during 30 days. The prices start at $499 per license for the Professional edition of the application. More detailed information is available at http://emcosoftware.com/msi-package-builder.
About EMCO Software
EMCO Software is a provider of integrated software solutions that help organizations to reinvent approaches to their computer networks management. EMCO Software award-winning products enable organizations to manage their IT environments remotely and automate their network administration procedures, including network inventory, software deployment, power management, and network & security control. Founded in 2001, EMCO Software is headquartered in Reykjavik, Iceland, with operations around the globe. Today, more than 20,000 organizations in 85 countries, including Fortune 100 and Fortune 500 companies, trust EMCO Software products.