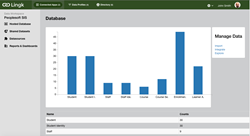 We are enabling IT to redirect their focus toward campus innovation.
Danville, CA (PRWEB) October 23, 2015
Lingk Inc., a provider of cloud-based data integration software, today announced the availability of the new Lingk™ Data as a Service (DaaS) platform for secure data sharing and streamlined application integration. Built by a team with over 50 combined years of education technology and SaaS experience, the platform enables higher education IT professionals to unlock and control access to critical student and institutional data, take the complexity out of onboarding new applications, and bring together both internal and third-party stakeholders to accelerate technology integration processes.
Institutions are challenged with adopting an increasing number of cloud and mobile applications for improving both student success and operational excellence. Many of these applications need data from key campus systems, such as Student Information Systems, where integration is a labor intensive, custom effort. Expensive IT resources like sys admins and DBAs end up spending their time on mundane tasks writing and maintaining custom scripts. These manual processes are costly, do not scale, lack security and privacy controls and slow both the adoption of applications and the institution's rate of innovation. The new Lingk solution is a purpose-built data integration platform that specifically addresses this problem in education.
"We are truly excited to bring our data integration platform to market, helping institutions lower cost of data and application management while ensuring that quality institutional data is always available to parties demanding it under the institution's governance and privacy rules," said Paul Roberge, Lingk founder and Chief Executive Officer. "We are enabling IT to redirect their focus toward campus innovation."
Lingk's advanced features deliver to education IT teams datasets built on Common Education Data Standards (CEDS) and learning events gathered from IMS LTI as well as capabilities to govern data access with granular security and privacy controls. In addition, unique data workspaces facilitate data management by enabling in-app collaboration with integration stakeholders complete with notes on history, support and licensing information. The cloud service is affordable and flexibly deployed at a fraction of the cost of current methods.
"A scalable data integration solution like Lingk releases the data management staff to work in an advisory or consulting capacity," said Stephen diFilipo, Chief Information Officer at MSOE University.
A multi-sided platform, Lingk also benefits education technology vendors developing applications that need access to high quality data from campus systems for business success. Using open, REST APIs, developers integrate just once to the Lingk platform to meet integration requirements of multiple customer institutions. Lingk also supports bi-directional data sharing, enabling developers to store and access data for learning analytics applications.
"Providing a reliable, secure way through which student data can be automatically loaded and kept in sync between a school's student information system and other applications removes an enormous amount of redundant, manual and costly effort from the customer implementation process," said Allison Duquette, Executive Vice President, Think Through Learning. "For us, the ROI from Lingk comes from enabling faster, easier implementations of our flagship Think Through Math application and redeployment our of highly-skilled technical personnel to other strategic projects."
The company also announced that it will be exhibiting at EDUCAUSE 2015 in Indianapolis, Indiana, October 28 and 29 in the organization's Start-Up Alley for innovators. Attendees who wish to learn more about the solution should visit the booth and see a demonstration.
The Lingk platform is available today for qualified early adopters. Institutions and vendors wishing to apply should visit http://www.lingk.io and complete a demo request form. Lingk is priced on a subscription basis with pay-per-use and enterprise plan options.
About Lingk Inc.
Lingk™ provides a cloud data service and open APIs that facilitate application integration at scale and secure student data. The solution streamlines connections between student information systems and an institution's system-wide application ecosystem. With Lingk, institutions can reduce the costs associated with infrastructure interoperability and instead accelerate academic and business innovation. Learn more at http://www.lingk.io or follow @lingk_io on Twitter.