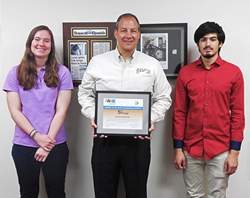 "We're delighted to support the development of the future workforce through the FAME 5% Pledge."
Rochester, N.Y. (PRWEB) July 25, 2016
APPLIED IMAGE has signed the FAME 5% Pledge to provide valuable skills and work experience to young employees in Rochester.
Finger Lakes Advanced Manufacturers' Enterprise (FAME) created the 5% Pledge to inspire organizations to make a commitment to the future workforce. The pledge states that for every twenty employees, the organization will hire one temporary intern, co-op, high school student or long-term unemployed individual.
The initiative allows workers to be exposed to the manufacturing culture, understand high-tech capacity and learn the necessary skills for success in the industry. Students have the opportunity to build their skill set in manufacturing and contribute to the high tech workforce.
APPLIED IMAGE has already fulfilled the pledge by bringing on two new team members. University of Rochester optics student Ava Hurlock will be working as an intern this summer. Hurlock is a junior optical engineering major planning to continue her education toward a master's degree.
Additionally, APPLIED IMAGE recently hired Ricardo Borges, a 2016 graduate of East High School's optics training program, as a full-time employee. Borges developed an interest in optics during his 10th grade science class; he then joined East High's Precision Optics Program, the only program of its kind in the United States. The East High lab is training the next generation of Rochester's precision optical technicians, engineers and scientists.
"Since starting here at APPLIED IMAGE, my hands-on experience in optical manufacturing techniques and inspection has grown exponentially," said Borges, who has already begun his work with the company.
"Ava and Ricardo have been great additions to our APPLIED IMAGE team. They have both demonstrated the skills, interest and ability to learn and quickly contribute, and we're delighted to support the development of the future workforce through the FAME 5% Pledge," said Glenn Jackling, president of APPLIED IMAGE. "FAME's 5% Pledge emphasizes the importance of this continuing growth and sustainability for optics and photonics in the Greater Rochester area."
---
About APPLIED IMAGE Inc.
Established in 1978, APPLIED IMAGE Inc. (http://www.appliedimage.com) started as a manufacturer of high quality Precision imaged components, calibration standards, linear scales and test targets. Since then, APPLIED has expanded their manufacturing capabilities to include image analysis standards, sinusoidal array patterns, UPC-EAN barcode calibration standards, ISO, IEEE, AIM, ANSI, ISEA and other society image quality standards. The culminating selection of products has become the basis for the APPLIED IMAGE "off-the-shelf" product lines, which can be found and purchased on the APPLIED IMAGE website. APPLIED is also renowned for their custom manufacturing and innovation capabilities, which include custom ball (spherical) optical lenses, PhotoMask and component sub-assembly services. With their knowledgeable engineering and manufacturing staff, they have provided imaged components for a wide variety of industries and applications around the world. From microrobotic components to calibration standards for the Mars Rover and the International Space Station, APPLIED does it all, truly making APPLIED IMAGE "Where IMAGE Concepts Become Reality."
About Finger Lakes Advanced Manufacturers' Enterprise (FAME)
FAME is an initiative of the Finger Lakes Workforce Investment Board and a collaborative public/private partnership of regional stakeholders that are dedicated to investments in human capital. FAME works with dedicated professionals who specialize in workforce development, and understand what it takes to attract and grow the workforce talent in advanced manufacturing. The end result in this investment is a bright, motivated, informed, skilled mind that contributes to the advancement of the sector. FAME builds minds that make it.