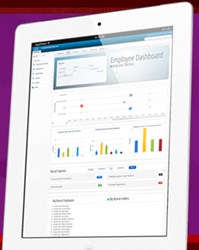 Aspex Solutions has always been on the cutting edge when it comes to providing innovative technologies to our K12 clients.
Chicago, IL (PRWEB) November 12, 2013
Aspex Solutions, the makers of the AppliTrack Talent Management Suite, the most popular cloud-based talent management solution in the K12 market, announced today that it has partnered with HireVue, Inc., the digital recruiting and talent interaction leader. The new partnership gives AppliTrack clients single-click access to HireVue's SaaS-based Talent Interaction PlatformTM. .
As school systems throughout the United States continue to identify ways to do more with less time and less money, HR departments and building-level administrators need to be highly selective with whom they bring in for an in-person interview. The traditional interviewing process can be a time-consuming and cost-prohibitive process for both schools and candidates as administrators seek out top talent across multiple geographies. As a result, both hiring managers and K12 job seekers spend a great deal of time, money and energy in interviews that don't always result in quality hires.
HIreVue's innovative Talent Interaction Platform enables school systems, and employers across all industries, to enhance the way they connect with talent, while enabling candidates to tell their story and demonstrate their qualifications in a more meaningful, fair and consistent manner. By augmenting existing applicant tracking, talent management and social applications, the company's platform accelerates the hiring process by delivering high-definition clarity into individuals' character, cultural fit, personality and potential. By integrating HireVue with AppliTrack, Aspex customers benefit from the ability to interview, share and compare candidates from anywhere in the world without time or location boundaries, while enabling HR to better focus on identifying top talent and improving the candidate experience.
"This is an exciting time to partner with Aspex. As school districts all over the country are being asked to do more with less, they can benefit from implementing technology and processes that help them do that effectively. With digital interviewing, administrators can spend time with the right candidates, eliminate interviews that seem to never go anywhere and hire the right education professionals for their districts, community and students," said Chip Luman, COO HireVue.
As a result of the integration, AppliTrack clients can:

Boost productivity by reducing the amount of time recruiters spend interviewing and increase the time they spend identifying new applicant sources
Increase quality of hires with customized prescreening and interviewing tools and reach more applicable candidates, no matter where they are located
Recruit passive candidates by accessing a database of stored recorded interviews
Reduce travel costs through remote and On Demand Interviews™ that enable companies to invite candidates to a digital interview that can be viewed by one person or shared with the entire team
Improve the candidate experience by eliminating the costs they incur and time spent away from their current jobs when interviewing candidates in-person
"Aspex Solutions has always been on the cutting edge when it comes to providing the most innovative technologies to our K12 clients," said Abe Reese, President and Founder of Aspex Solutions. "Our partnership with HireVue allows our clients to experience a new way of conducting interviews with their applicants."
About Aspex Solutions
Aspex Solutions is a privately held company that was recently named to the 2013 Inc. 500 | 5000 list for the third consecutive year. Based in Chicago, Aspex Solutions' flagship solution, the AppliTrack Talent Management Suite, allows organizations of all types and sizes to automate hiring processes, maintain paperless personnel files, and test and evaluate employment applicants to quickly identify their likelihood of being successful employees. Aspex Solutions currently serves over 2,700 organizations, including 2,600 K12 school systems, throughout the United States and Canada. For more information about Aspex Solutions, please contact us at 1.888.667.1ASP or visit the company's Web site at http://www.AspexSolutions.com.
About HireVue, Inc.
HireVue is making business personal again through social, mobile & video enriched workplace interactions. Our Talent Interaction Platform™ lets people tell their story and demonstrate their talents, enabling high-touch collaboration and insights – all at the speed, quality and consistency of digital. HireVue was recognized by Inc. magazine in 2013 as a top 500 fastest growing private company and HR Executive Magazine as a Top HR Product of 2012. Join HireVue customers – including more than 20% of the Fortune 100 – who are reimagining recruiting and putting the personal back in business. http://www.hirevue.com