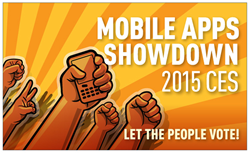 We love supporting the future of technology by encouraging the journey of these student app developers as they claim their stake in this growing field.
Las Vegas, NV (PRWEB) January 08, 2015
The Kay Family Foundation, a grant-making foundation, and Living in Digital Times are proud to announce Brooke Martin and Zach Burmeister as the winners of the second annual Appreneur Scholar Award for their cutting edge mobile apps. The award provides these student winners with a $5,000 scholarship fund to help them pursue studies to refine their app and continue bringing new apps to market.
Martin and Burmeister will be presented with their award at the 2015 International CES® during the Mobile Apps Showdown hosted by Living in Digital Times on Thursday, January 8, 2015 at 12:30 p.m. PT in the Las Vegas Convention and World Trade Center (LVCC), North Hall, Room N25. The 2015 International CES takes place in Las Vegas, January 6-9.
"It is really an amazing thing to see these young inventors showcase their talents and passion in the world of technology" said Robin Raskin, creator of the Mobile Apps Showdown and founder of Living in Digital Times. "We love supporting the future of technology by encouraging the journey of these student app developers as they claim their stake in this growing field."
The Appreneur Scholar Award recognizes the creative efforts of student-built applications running on any of the current mobile app devices including iOS, Android, Windows 8, as well as smartwatches/wristwear, Google Glass and other emerging platforms. Living in Digital Times received entries from high school, college and graduate school students from all over the world to have their apps judged by a panel of journalists, engineers and developers from the mobile community. Judges rated each app entered on its impact, scalability, originality, user interface and user retention.
The Appreneur Scholar Award winning apps include:

iCPooch - Brooke Martin, a sophomore at Ferris High School in Spokane, WA, is the creator of iCPooch. iCPooch is a free app designed to let users connect to their pet with two-way video chat while providing the ability to deliver them a treat from anywhere in the world. The iCPooch App integrates with the iCPooch hardware device to perform these physical functions utilizing two different cloud-based servers. The concept for iCPooch came to Brooke while attending Startup Weekend Spokane, a fast-paced, 54-hour competition where professionals pitch entrepreneurial ideas. At 12 years-old, she had decided to participate as part of an 8th grade class project. After a one-minute pitch, she convinced a room full of adults that she had what it takes to be on the team. After everyone finished their pitches, the iCPooch concept received the most votes of any presented. In those 60 seconds, Brooke says she learned an invaluable life lesson: Without the courage to risk failure, you'll never truly know success.
SmartTest Pro - Zach Burmeister, a freshman at the University of Denver studying Computer Science, conceived SmartTest Pro during his senior year at Tampa Preparatory School. Zach was assigned a senior project where his class was challenged to learn something that they could not learn during school. Because Zach was interested in iOS Development he set out to create two apps to deliver a new method of digital testing. Thus was born SmartTest Pro Teacher and SmartTest Pro Student. These companion apps create a safer testing environment for students and give teachers more control over their tests, all without the use of a clunky web portal. SmartTest Pro Teachers Edition is the central hub for testing. Teachers create, save and organize answer keys, start and monitor tests, and review and export completed tests. All in the same place. SmartTest Pro Student allows the student to view test questions and select the correct answer in an environment that requires test integrity.
About Living in Digital Times
Founded by veteran technology journalist Robin Raskin, Living in Digital Times brings together the most knowledgeable leaders and the latest innovations impacting both technology and lifestyle. It helps companies identify and act on emerging trends, create compelling company narratives, and do better business through strong network connections. Living in Digital Times produces technology conferences, exhibits and events at the International CES and other locations throughout the year by lifestyle verticals. Core brands include Digital Health Summit, Fitness Tech Summit, Lifelong Tech, Kids@Play Summit, Family Tech Summit, TransformingEDU, MommyTech TV, Wearables and FashionWare runway show, Mobile Apps Showdown, Last Gadget Standing, Battle of the Bands, and the KAPi Awards. The company also works with various foundations and manages the Appreneur Scholar awards program for budding mobile entrepreneurs. For more information, visit http://www.LivinginDigitalTimes.com and keep up with our latest news on Twitter, LinkedIn and Facebook.
About Kay Family Foundation
Kay Family Foundation is a U.S. private grant-making foundation. The Foundation's mission is to promote new models and systems that produce 21st century global leaders primarily across four thematic pillars: faith, education, medical and the arts. For more information, visit http://www.kayff.org/.
About CES
The International CES is the world's gathering place for all who thrive on the business of consumer technologies. It has served as the proving ground for innovators and breakthrough technologies for more than 40 years—the global stage where next-generation innovations are introduced to the marketplace. As the largest hands-on event of its kind, CES features all aspects of the industry. And because it is owned and produced by the Consumer Electronics Association (CEA), the technology trade association representing the $203 billion U.S. consumer electronics industry, it attracts the world's business leaders and pioneering thinkers to a forum where the industry's most relevant issues are addressed. Follow CES online at http://www.cesweb.org and through social media: cesweb.org/social.
###