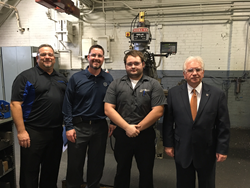 The [apprenticeship] program truly is a win for all involved and we are very thankful to French for partnering with us.
Piqua, Ohio (PRWEB) November 22, 2016
In 2012, 71% of students graduating from four-year colleges did so with student loan debt. At an average debt over $25,000 per student, Americans owe more in student loan debt than credit card debt.
At the same time, 80% of manufacturers report a moderate or serious shortage of qualified applicants for skilled production positions. Over the next decade, nearly 3½ million manufacturing jobs will likely be needed, and 2 million are expected to go unfilled due to the skills gap.
Fortunately, some manufacturers and educators are working hard to relieve this stress on students and on themselves through apprenticeship programs. Custom machinery and hydraulic press manufacturer French Oil Mill Machinery Company and the Upper Valley Career Center in Piqua, Ohio, are doing just that. The two entities are linked with a formal apprenticeship program approved by the US Department of Labor, Bureau of Apprenticeship, which sets demanding occupational and academic standards.
Upper Valley Career Center student Chandler Sampson (Covington High School) joined the French team as an apprentice right after his junior year in high school, working full time through the summer months as an entry-level manual machine tool operator. Now that school is back in session, Chandler continues to work while finishing his high school degree, giving him a chance to improve his machining skills through on the job training and in the classroom setting. The opportunity to learn hands-on, while making money and getting a diploma at the same time, means Chandler will graduate high school with real work experience and the necessary manufacturing skills to start his career without incurring the crippling school loans that so many students face.
Apprenticeship programs are equally beneficial to employers, like French, who participate. Hiring an apprentice is a cost-effective solution for employers to train and retain a skilled workforce, while giving back to the trade and to the community by ensuring that students receive the correct training for a successful future in machining. In addition, the program exposes seasoned employees to the school's training curriculum, allowing them to learn about the most up to date process improvements. Having an apprentice on staff permits higher skilled labor to focus on more difficult tasks while providing an inexperienced machinist the opportunity to learn valuable skills.
Tony Trapp, the Upper Valley Career Center Apprenticeship Coordinator explains, "Through routine reviews by Chandler's manager at French, our instructors get a better understanding of the skillset that local manufacturers need. With this information, we can tailor his training in a way that prepares our graduates with the skills needed to find work, which grows our community's available workforce and helps employers with succession planning." He continues, "The program truly is a win for all involved and we are very thankful to French for partnering with us."
About French Oil Mill Machinery Company
French Oil Mill Machinery Company is an ISO-certified, 4th generation family-owned U. S. company that custom designs, manufactures and supports hydraulic press systems for molding rubber and composite materials, screw presses for synthetic rubber processing and for the separation of liquids from solids, and oilseed equipment used to extract vegetable oil from seeds and nuts, and to produce biofuels. For over 115 years they have partnered with their stakeholders, in over 80 countries worldwide, to provide products with superior value and superior service that improve their customers' productivity and reduce their overall production costs.
About Upper Valley Career Center
The Upper Valley Career Center is centrally located in Piqua, Ohio. At the Upper Valley Career Center high school students can begin their career pathway, earn college credits and begin work in their field - all while remaining active in sports and other activities at their home school. Upper Valley Career Center has been the area's leader in STEM - Career and Technical Education for high school and adult students since 1975.To learn more about Apprenticeship programs through Upper Valley Career Center visit http://www.uppervalleycc.org/School-to-Apprenticeship.aspx
(Sources: DoSomething.org, National Association of Manufacturers NAM, Deloitte and the Manufacturing Institute)