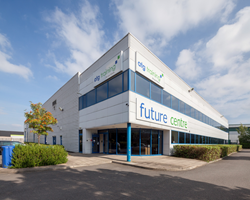 We see apprenticeships as an attractive route into a professional career, allowing you to earn as you learn.
(PRWEB UK) 6 March 2015
http://www.atg-training.co.uk/ The government invested £1.5 billion in apprenticeships in the year 2013-2014, and the pledge to invest more money enjoys cross-party support, so the future for apprenticeships continues to look bright. With 1,500 different apprenticeships on offer in more than 170 industries, there are benefits to the employers besides having a pool of trained members of staff ready to fill any gaps in the workforce skill set; businesses report an average increase in productivity worth £214 a week when they employ apprentices.
An example of the resources and commitment available is Thames Valley training provider, ATG Training, which has over 45 years of experience delivering a broad range of training modules from its purpose-built Future Centre in Aylesbury, and specialised centres in London and Stafford. Working with many of the country's most prestigious employers including The University of Oxford, Flying Test Systems, Instron, Hypnos and Christys' London, ATG Training's apprenticeships cover traditional engineering, electronics, as well as service-based occupations such as customer service, logistics, business and management administration. It also provides a wide range of management development programmes.
The employers, who work with ATG Training, invest in their staff and seek enthusiastic young people to fill their current vacancies. ATG Training assists with that process, and is the ideal third party in the recruitment process; making sure they send suitable applicants for interview and supporting individual candidates through the procedure. One of ATG Training's recent success stories is Bobby Duff, an Intermediate Business and Administration Apprentice with British Converting Solutions, who was awarded the title of "Apprentice of the Year 2014", in a nationwide competition organised by Group Training Associations. Bobby joined BCS in October 2013 and immediately impressed the company's Operations Director, Simon Penwright with his enthusiasm. "Bobby demonstrated his aptitude and ambition to succeed within weeks of joining us. A year on, he organises and holds supplier meetings, controls our manufacturing software, and is currently processing £1.7 million of purchased product per annum," says Simon. "BCS believe in investing time and resources into our apprentices to ensure they fulfil their potential. I started my career as an apprentice at the age of 16 and see apprenticeships as a preferred alternative to employing university graduates. With the right attitude, the sky really is the limit."
The University of Oxford's apprenticeship scheme has seen a rapid increase in the last few years from three apprentices in 2009 to seventeen today and a further number being advertised. The University aims to have at least one apprenticeship in each of its seventy- eight departments, believing that high achievers who progress through apprenticeships can find that themselves to be an important part of the team that provides a diverse range of services including celebrated publications, ground- breaking research and exceptional education. Clive Shepherd, the University of Oxford's Apprenticeship Manager, says, "It is exciting times for Apprenticeships at the University of Oxford. We see apprenticeships as an attractive route into a professional career, allowing you to earn as you learn."
For more details of ATG Training's current vacancies, upcoming Open Days or apprenticeships in general visit: http://www.atgapprenticeships.com or call 01296 737800.