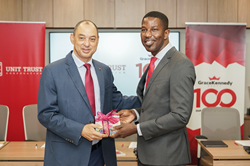 We are elated about this partnership and believe the timing is perfect. Even as uncertainty keeps sweeping global economies, financial markets and industries, we remain focused on delivering value.
PORT OF SPAIN, Trinidad and Tobago (PRWEB) June 23, 2022
As an indigenous investment management company celebrating its 40th anniversary this year, the Unit Trust Corporation (UTC) is proud to recently announce the signing of its Joint Venture Agreement with GK Capital Management Limited (GK Capital), a subsidiary of GraceKennedy (GK) Limited to offer additional investment options to Jamaican investors.
This new, innovative partnership is rooted in an alignment of UTC and GK's strong core values and leverages each entity's disparate but complementary strengths to create compelling and sustainable value for both individual and institutional investors.
The Jamaican market can be characterized by a vibrant money market, a dynamic stock exchange, and close affiliations with US financial markets via money transfers. Within this environment, UTC will leverage its expertise and replicate what was accomplished in Trinidad and Tobago to provide financial hope and create wealth, but now also for Jamaican investors.
UTC Executive Director, Nigel Edwards sees the UTC as staying true to its mission of creating and enhancing wealth for all by providing innovative investment solutions and world‐class customer service. He says, "We are elated about this partnership and believe the timing is perfect. Even as uncertainty keeps sweeping global economies, financial markets and industries, we remain focused on delivering value. UTC's business trajectory is prudently mapped, and our investment management philosophy is borne out of a customer‐centric approach."
Edwards adds, "This initiative is a significant milestone for the UTC and adds to our 40‐year legacy of trust and significant contribution to the success of the financial services sector."
GK is one of the Caribbean's largest conglomerates, involved mainly in food manufacturing and distribution and financial services. Founded in Jamaica in 1922, GK is now celebrating its centennial year of business, and is geographically diversified across the Caribbean, North and Central America and, the United Kingdom.
Don Wehby, Group Chief Executive Officer of GraceKennedy, explained, "For over one hundred years, Jamaicans have remained confident in GraceKennedy's ability to generate innovative solutions. These new investment options from GK Capital in partnership with UTC, will serve as another great example of our Company's commitment to delivering world class investment products to our customers."
Steven Whittingham, Deputy Chief Executive Officer of the GraceKennedy Financial Group and the Head of GK's Investment and Insurance Divisions, acknowledged that "The initial funds will diversify the sphere of investment opportunities for GK Capital's clients and expand our product reach. While we are entering a competitive Collective Investment Scheme market, the design of the funds and the planned novel approaches to distribution, will deliver a unique customer experience and drive client acquisition and the accumulation of assets under management."
The UTC is the largest mutual fund service provider in Trinidad and Tobago, with Assets Under Management as at, 31st December 2021, totaling TT$25.5 Billion (US$3.75 Billion).
Underpinned by a robust risk management framework, continued good investment portfolio performance and operational efficiency, UTC continues to honour its mission of generating wealth for all ‐ not only for local communities but now, regionally.
About The Unit Trust Corporation
The Unit Trust Corporation is one of the largest financial solutions providers in the Caribbean, with over TT$25.5 Billion (US$3.75 Billion) in Funds Under Management. With nearly every household in Trinidad and Tobago invested with the Unit Trust Corporation, it is an indigenous institution with a strong foundation, standing side by side with over 617,000 strong Unitholders.
Through prudent advice and judicious fund management, they cater to the diverse needs of individuals, businesses and government institutions. They are focused on helping their investors to achieve their goals by offering investment education and financial advisory services. With sound portfolio management strategies, they are committed to bringing the best value to their investors. Through their shared value thrust, the UTC Foundation has been set up to strengthen their social investment and philanthropic arm, under the pillars of Entrepreneurship, Education, Financial Well-Being and Environmental Citizenship.
The Unit Trust Corporation is committed to having a meaningful impact and contributing to the development of its country and the region in extension.