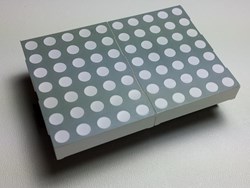 We recognized that not everyone who would be interested in funding our project would be software wizards. That's why we wanted to create something that was simple enough for a parent to use for her child, or a DJ to use in his booth.
(PRWEB) August 22, 2013
With nearly twenty days remaining in the campaign that went live on August 11th, makers of a new modular scrolling LED matrix, LEDgoes, are happy to announce successful traction of their Kickstarter project.
Two years in the making, LEDgoes is much like the kind of scrolling screens seen at convenience stores displaying the worth of this week's Lotto, or those seen in front of stock exchanges displaying real-time quotes. However, LEDgoes' modular design allows the user to make the display practically any length from just one, 5x7 LED matrix panel wide, all the way up to sixty-four panels in total. An even longer length could be attained through software control.
Since LEDgoes flipped the switch on Kickstarter, they have garnered substantial traction, and with plenty of time left on the clock to fund, its creators hope to reach high stretch goals. The original goal was set to $1600. To date LEDgoes has raised 726% of its goal and is attracting an average of over $1000 in funding per day. In a world peppered with lackluster crowdfunding projects, LEDgoes shines as a major success.
Unlike other LED displays, users of LEDgoes do not have to be technology geniuses nor spend massive amounts of time configuring it to display a personalized message or animation. LEDgoes features easy-to-use software in order to program the matrix to display any desired message over USB and Bluetooth.
Users may write messages manually, set the board to monitor certain hashtags, keywords, or handles on Twitter, plus hook up to additional services to be supported over time including real-time stock quotes. Animations can also be displayed using the software. Additionally, where most of the cheaper DIY products feature only one color on the board, LEDgoes supports three—red, green, and yellow—to create a vibrant display.
For highly tech-savvy users who want to utilize the hardware in different ways, each individual LEDgoes panel has two ATmega168 processors. These chips are easily programmable and feature numerous exposed I/O pins. By combining highly sophisticated hardware and user-friendly software, makers behind the product Stephen Wylie and wife Stacy hope to attract a diverse group of users.
"You don't need to run an LED matrix if you don't want. Perhaps you have a custom application that requires more pins than you can usually get on a development board; the LEDgoes hardware can support that too," said Stephen, Technology Specialist, of the hardware.
The software supports vertical orientation of the panels as well, so users can create double-sized font letters (or bigger) if desired. The communication protocol between panels is designed to carry information on a pixel level, thus it is possible to get an LEDgoes matrix to display animations and graphics as well, beyond simple text.
Stacy replied in reference to the software's utility, "We recognized that not everyone who would be interested in funding our project would be software wizards. That's why we wanted to create something that was simple enough for a parent to use for her child, or a DJ to use in his booth."
Some of the makers behind LEDgoes have ties to Apps FALYF's technology department where they plan to expand upon new paradigms of mobile technology. LEDgoes is a distinct example of the vast talent in the current tech arena, and Apps FALYF is thankful to be associated with the brains behind LEDgoes.
The Kickstarter officially ends on Sep. 9th at 11:40 PM CDT.
###
About LEDgoes:
After joining forces two years ago in the Dallas Makerspace, Stacy and Stephen partnered with Makertronic.com to develop and manufacture a modular and more user-friendly LED matrix panel. Creating something highly technical but simplistic marks the foundation of this partnership. The LEDgoes Kickstarter campaign is set to run until 11:40 CDT on September 9th. For more information on how to fund LEDgoes or to order the product, visit LEDgoes.com or follow @LEDgoes_display on Twitter.
About Apps FALYF, LLC:
Apps FALYF, LLC is a start-up created nine months ago on the foundation of unique and cutting edge mobile app functionality. Apps FALYF teamed up with Austin, Texas based Rocksauce Studios to develop Small Call and quickly forged a strong business relationship. Apps FALYF is an emerging, user-centric technology company that plans to continually and rapidly update Small Call. In the future, Apps FALYF plans to develop several more truly original mobile applications focused on making users' lives easier.
Small Call PRO is available in the Google Play Market at a one-time cost of $3.99, For more information about Small Call, Apps FALYF's upcoming breakthrough mobile developments, or to request a version of Small Call PRO via .apk file, contact Media(at)AppsFALYF(dot)com.
Website: http://www.AppsFaLyf.com Phone: 281.783.9181
Facebook: http://www.Facebook.com/SmallCallApp Twitter:@AppsFALYF