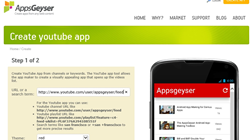 Web video enables people to see, feel and hear a product, service and brand. The confidence built by exposing these senses to a brand is priceless
(PRWEB) January 27, 2015
AppsGeyser, the leading free Android app-making platform, has updated the Android app template that enables app makers to convert video footage direct from YouTube into an Android app. The YouTube template is a popular way of integrating video into an app promoting a fun, visually appealing Android app.
The video template has been updated to provide support for YouTube channels. The template now enables the app maker to upload multiple video links from a channel or playlist. The template has also undergone a visual change and looks more robust, with a modern, native and usable feel to it.
App makers are creating video apps as informative tools for businesses and also as a marketing tool for existing businesses. The use of video has becoming increasingly popular amongst marketers. Video content not only educates the audience on a brand, but it increases brand awareness and builds trust and loyalty into a brand.
AppsGeyser Android app creator Damian Ford has created a YouTube app, and explains why: "I am an interior designer and I wanted my potential clients to see and feel the way I work. I have uploaded several videos that show projects from the first visit through to the executed completion of a home."
AppsGeyser Co-founder Vasily Salomatov, told us, "Web video enables people to see, feel and hear a product, service and brand. The confidence built by exposing these senses to a brand is priceless. We, at AppsGeyser, felt that this tool was crucial for our app developers to market their businesses effectively."
About AppsGeyser
AppsGeyser, launched in February 2011, is now the biggest Free Android App Builder on the market. AppsGeyser's popularity has risen by enabling users to create apps with ease for Android devices from any web content in under five minutes. AppsGeyser has seen more than 1,456,000 apps created on its platform. There have been more than 984 million downloads of its apps.