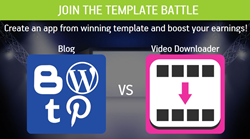 These templates have added a lot of additional value to my app business
(PRWEB) October 16, 2015
AppsGeyser is currently running a fantastic competition that gives app makers the chance to win additional app revenue for their app. App makers from around the globe are all rushing to create apps using the chosen app templates for AppsGeyser's template challenge competition.
The online app template provider, AppsGeyser, is offering app makers the chance to increase their app revenue by applying for the Template Challenge competition. The rules for the competition are simple. App makers need to create an app from one of the two chosen templates. Upload the template to GooglePlay and market the app to get installations.The template that has the most number of installations by October 31st 2015 will win.
The added bonus to the app template battle competition is that ALL app makers that have used the winning template, and have applied to join the competition, will win and receive increased revenue share for their app.
"I love making apps but have not yet used either of the two templates that are active in the app template competition", Jadon Harper told us, "I am excited to be creating some news apps to take part in the competition, these templates have added a lot of additional value to my app business''.
"We want to excite our app makers and give them incentives to create apps," explained AppsGeyser Co-founder Vasily Salomatov, "The app template battle has in the past proven to be a popular contest among our app makers."
About AppsGeyser
AppsGeyser, launched in February 2011, is now the biggest free android app builder on the market. AppsGeyser's popularity has risen by enabling users to create apps with ease for Android devices from any web content in under five minutes. AppsGeyser has seen more than 2.1 million apps created on its platform. There have been more than 1.199 billion downloads of its apps.