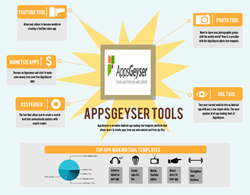 AppsGeyser strives to provide all the tools required to allow app makers to create successful apps.
(PRWEB) December 03, 2013
AppsGeyser gives amateur app makers the opportunity to enter into the world of app making with its large range of Android app making templates that it offers for free on their website. The free Android app making templates enables the app maker to create a wide range of apps for their prospective app making business, encouraging app diversity that will permit the app maker to reach to a wider app audience.
The Android app tool templates that are currently available for app creation on the AppsGeyser website include; the newly released e-book app template, that allows an app maker to create an offline app from almost any format, video based apps, such as the YouTube and TV app templates, and the audio template. AppsGeyser also offers the more traditional app making templates, including; the URL template, HTML editor template for apps from scratch and the zip file template for the more advanced app makers. The AppsGeyser blog has detailed explanations of each of these app template styles to allow the app maker to create an app with ease.
"I thought that all my dreams had come true the day that I discovered AppsGeyser," Jane Brown explained. "I am a teacher and wanted to bring some fun to my lessons, I have created a range of apps that conveys my lessons in using different methods, the kids love it."
"AppsGeyser listens to their app makers and strives to provide all the tools required to allow them to create successful apps. AppsGeyser Co-founder Vasily Salomatov, explained, "With now over 14 Android app templates on the market, the scope for app development has been increased."
About AppsGeyser
AppsGeyser, launched in February 2011, is now the biggest Free Android App Builder on the market. AppsGeyser's popularity has risen by enabling users to create apps with ease for Android devices from any web content in under five minutes. AppsGeyser has seen more than 630,000 apps created on its platform. There have been more than 486 million downloads of its apps.