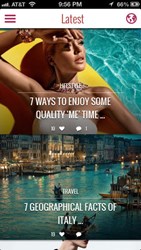 The vision of Allswomenstalk is to create a fabulous, fun and fresh for hub the global community of girls and woman
Cupertino, CA (PRWEB) January 09, 2014
Girls and women around the world who want to discover the most fabulous version of their fantastic self can now download the latest version of the globally popular no-cost app Allswomenstalk, and enjoy stunning new visual improvements.
Allswomenstalk, which is located on the web at http://allwomenstalk.com/, is the ultimate blog that keeps girls and women updated on the latest news and information in: hair, makeup, fashion, beauty products, dating, travel, dieting, money, movies, bags, cooking, food, gardening, jewelry, love, lifestyle news, celebrity gossip, health and wellness, and much more. New content and categories are being added on a regular basis, and users are invited to send in their requests for future updates.
Plus, users can post, comment and interact with Allswomenstalk community members around the world, and ensure that they stay on top of everything new, hot, interesting and useful.
"The vision of Allswomenstalk is to create a fabulous, fun and fresh for hub the global community of girls and woman," commented Slavik Kaushan of Allswomenstalk. "And best of all, it's a community that users can engage and experience anytime and anywhere – whether they have a few seconds or a few hours. It's the perfect place to discover new ideas, learn useful tips and insights, meet incredible people, and the list of possibilities are endless!"
Added Slavik Kaushan: "And of course, we're always adding more engaging, insightful and 100% unique content on a daily basis, which means that there's always something new and exciting to explore on Allswomenstalk -- guaranteed!"
The new version of the Allswomenstalk app, which features improved visuals to help each girl and woman discover the most fabulous version of her fantastic self, is available from the App Store at https://itunes.apple.com/app/allwomenstalk/id525213890. The no-cost app is available in English, Dutch, French, Italian, and Traditional Chinese.
For more information or media inquiries, contact Mark Johnson on behalf of
Allswomenstalk at +1 408 757 0156 or press(at)appshout(dot)com.
About Allswomenstalk
Founded in 2006 by a prominent web designer and entrepreneur Slavik Kaushan and a writer Olga Kaushan, AllWomenStalk has established itself as THE website women want to start their day with, with 15 million women monthly readers and more being added all the time. Guided by its very talented and equally fabulous editor-in-chief Jennifer Knightstep, Allswomenstalk's outstanding team of over 20 gorgeous and amazingly talented women-writers bring their best advice to our readers on a daily basis. And thanks to its international team of 7 insanely intelligent programmers and web designers, AllWomenStalk is always on a quest for becoming a sleeker, faster, easier-to-use app and website, all for the convenience of its dear readers.
Learn more at http://allwomenstalk.com/