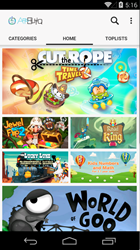 Cupertino, CA (PRWEB) October 23, 2016
AppButiq is a monthly-subscription based game platform that contains hundreds of premium Android games like Badland, World of Goo, Formula Cartoon Allstars, Ben 10 and Cut the Rope. The subscribers have unlimited access to all of those games without any extra costs, ads or in-app purchase.
The App Store and Google Play are filled with hundreds of thousands of apps and it is not always easy for mobile users to find the best games & content for their devices. In addition, many of the best apps aren't free while some are freely downloads but including either ads or in-app-purchase. Looking at it from the gamers perspective, an experience that is supposed to be fun sometimes becomes complex and makes it difficult to determine which new apps to download.
Launched by Mangodo during Q3, the Android game platform AppButiq provides a refreshing alternative to the existing stores with a different approach. The platform contains hundreds of premium games like Cut The Rope, Badland, World Of Goo, Doodle Creatures, Formula Cartoon Allstars, Ben 10 Omniverse from top publishers like ZeptoLab, Frogmind, Cartoon Network, JoyBits. Some of those games are only otherwise available as paid downloads via Google Play and some of them are free but with ads or in-apppurchase.
The subscribers of AppButiq have unlimited access to all of those games at no costs, ads and in-app-purchase.
AppButiq offers all users a 15 days free trial. A link to install the platform (along with the full library of apps) can be found at: http://www.appbutiq.com.
The platform is powered by Appland, a company based in Sweden offering app store subscription clubs.
For more information or media inquiries, contact Zerrin Yerlikaya on behalf of Mangodo at +90 216 988 01 75 or info(at)mangodo.com
About Mangodo
Mangodo offers digital marketing solutions. The company analyzes the digital channels like web sites, mobile apps, social media, digital screens of the customers, define their needs and offer solutions with the best tools and optimized models. The goal of the company is to keep the customer satisfaction in its highest level by proposing the solutions that are optimized in time-to-market and budget.