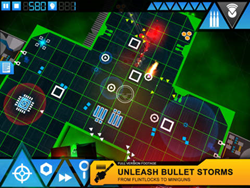 Cupertino, CA (PRWEB) December 15, 2015
Gamers looking for their next exciting challenge – one that will keep them playing long into the night as they defeat enemies, and stay alive to fight another battle – can now head to the App Store or Google Play and download Artificial Defense: the brilliant new strategy game from ONE MAN GAMES.
Unlike conventional battle strategy games that are often "shoot 'em up" arcade style offerings, Artificial Defense delivers a sophisticated, intelligent real-time orbital shooter experience in a virtual reality setting.
Here's the Artificial Defense story: gamers assume the identity of a powerful computer system known as "The Machine", and must defend servers from swarms of invading attackers. There are three key gameplay elements: offense, defense and conquer.

OFFENSE: Gamers try to obliterate enemies by using up to 21 different weapons, from conventional and rather antiquated (though partially effective) flintlocks, to devastating hellfire missiles, nuclear bombs, and even asteroids. In total, there are 7 handgun weapons, 7 missile weapons, and 7 heavy duty weapons.
DEFENSE: Gamers protect their network of servers by fortifying 21 defense towers, which range from pistol sentry towers, to those that use flame throwers and launch long-range railgun artillery. 7 of these towers are close-combat towers, while 7 are long-range towers. There are also 7 production towers that produce essential RAM, which gamers stockpile and secure.
CONQUER: Gamers must launch intrusion counter measures (ICMs) to re-conquer breached honeypots, firewalls and defense nodes. They must also secure a safe path for datablip convoys, which carry valuable data from databases to backup devices
Gamers start out as an analog punch-tape system, and by successfully making their way through 49 unique challenges, they evolve through 6 systems on their way to becoming a powerful quantum A.I. computer.
Other Artificial Defense special features include:

13 music tracks, including electro, new retro wave, 8-bit style, heavy metal, and more.
Mobile GFX settings that ensure the game looks brilliant on high-end devices, while being fully playable on older models.
No ads and just one single in-app purchase (Unlock Full Verison).
In addition, Artificial Defense has been accepted into the entertainment platform Steam's "Greenlight" program, which invites gamers to provide feedback and "vote up" new games that they want to see accepted and distributed. Comments from impressed gamers include:
"Definitely a game that deserves to be greenlit. Played it on mobile and I must say the game has plenty of unique ideas".
"I've been looking for a nice strategy game to buy... YOU HAVE MY VOTE AND POSSIBLY THOUSANDS MORE ON THE WAY!!!"
"I love tower defense games, especially ones that take it to the next level. You have my vote!"
"Voted, this looks fantastic".
Gamers can share their feedback and cast their vote on Steam by visiting:
http://steamcommunity.com/sharedfiles/filedetails/?id=542312602
For all other information or media inquiries, contact Mark Johnson on behalf of ONE MAN GAMES at +1 408 757 0156 or press (at)appshout(dot)com.
Alternatively you can send an email inquiry to: thiemo(at)onemangames(dot)de
About ONE MAN GAMES
ONE MAN GAMES is headed by Thiemo Bolder, a German self-taught game developer and freelancer. In addition to his latest app Artificial Defense, he has created two "find the pair" games for kids: Merks Dir and Teach You.
For additional information, visit http://www.one-man-games.com.