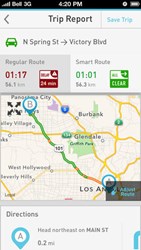 Cupertino, CA (PRWEB) February 05, 2014
Beat the Traffic app available for iPhone and Android devices offers extensive real-time traffic information and solutions for the busy commuter. Users can quickly check the latest traffic conditions, incidents and find the fastest route to take.
The sleek looking crowd-sourced traffic app is designed to make commuting easier. See an incident? No problem, simply report to fellow drivers with the "shake to report" feature. Beat the Traffic includes text directions, providing turn by turn instructions for unfamiliar routes.
Smart Route is a re-routing feature. Smart Route activates when a better alternate route is available based on real-time road conditions.
"Beat the Traffic is an essential app for the commuter lifestyle," said Mark Thompson, Managing Director at Beat the Traffic. "Powered by a blend of crowd source, public and private data suppliers and live operators Beat the Traffic provides comprehensive real-time traffic coverage."
Key features:

Home screen gives full map view, displays traffic flow, incidents, construction, road closures, traffic cameras, and weather.
Trip Report provides the best route available with estimated travel time, traffic flow, incidents and traffic cameras all on one screen.
Text directions provide turn by turn instructions along the route.
Smart Route recommends the best alternate options so you can adjust your commute and save time.
Shake function allows users to crowd source incidents by shaking their device and alert fellow users.
For full app functionality, free registration is required.
Beat the Traffic is available now for iPhone in the App Store at: https://itunes.apple.com/app/beat-the-traffic/id552637004.
A dedicated Android version is also available via Google Play at: https://play.google.com/store/apps/details?id=triangleSoftware.traffic.android.
For more information, please contact:
Rachel Douglas
Phone: 905-829-1159 x1581
Email: rdouglas(at)pelmorex(dot)com
About Pelmorex Media Inc.
Celebrating 25 years, Pelmorex Media Inc. is the parent company of The Weather Network, MétéoMédia, Beat the Traffic and Eltiempo. The Weather Network and its French counterpart MétéoMédia are Canada's most popular weather and information services on TV, web and smartphone apps. Pelmorex owns and operates Eltiempo, Spain's leading multi-platform weather information provider. With strong roots in weather, we continue to leverage technology and science to help consumers plan their day by expanding the Pelmorex family to include Beat the Traffic, a leading multi-platform brand that finds the fastest route from point A to point B. Pelmorex also operates Canada's National Alerting Aggregation and Dissemination System (NAADS) which aggregates and distributes emergency alerts issued by authorized government agencies. Pelmorex has been named one of Greater Toronto's Top Employers as well as Canada's 50 Best Managed Companies for seven consecutive years.