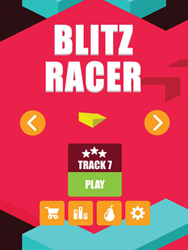 Cupertino, CA (PRWEB) December 15, 2015
PearFiction Studios Inc. announced today that version 2.0 of its award winning 3D isometric racing game Blitz Racer is now available in both the App Store and Google Play – and both current and future fans have plenty to be excited about, including new tracks, new tunes, and enhanced gameplay features.
The fundamental objectives of Blitz Racer 2.0 remain the same, and are refreshingly simple: don't crash, stay alive, and keep racing. However, achieving these goals is easier said than done. Gamers must deftly and rapidly navigate various race tracks that feature a sleek isometric design, and that have both a retro and futuristic feel at the same time. It really is a unique esthetic that will impress both new and "old school" gamers alike.
Tapping left allows gamers to turn 90 degrees counter-clockwise (i.e. to the left), while tapping right allows gamers to turn 90 degrees clockwise (i.e. to the right). Each time they complete a lap, gamers earn a star. When they collect enough stars, they head to the next level and face an even tougher track.
In the original version of Blitz Racer – which won the Pocket Gamer Silver Award, and was heralded as a game that "delivers the arcade racing goods with admirable style and uniqueness" – gamers had to contend with 6 distinct race tracks. Now in version 2.0, they're presented with 19 brand new courses, bringing the total to 25. What's more, each track has its own original techno-inspired, adrenaline-pumping anthem.
Other special features in Blitz Racer 2.0 that gamers can look forward to include:

A re-tooled difficulty arc that makes the game more fun, challenging and addictive.
A new function that allows gamers to use lives and resume their game, so they can extend their Blitz Racer experience.
Game Center integration to compete against friends.
The ability for gamers to save and share videos of their best laps.
"Blitz Racer 2.0 has the same sleek isometric design, unique controls, and challenging gameplay that earned it rave reviews around the world," commented Thierry Semoff of PearFiction Studios Inc. "And now, there are tons of new tracks and tunes to experience!"
Blitz Racer 2.0 is now available at no cost for iOS from the App Store at https://itunes.apple.com/app/blitz-racer/id939439952, and for Android from Google Play at https://play.google.com/store/apps/details?id=com.mudloop.blitzracer&hl=en.
For additional details including screenshots and a video trailer, visit http://www.pearfiction.com/portfolio/blitz-racer.
For all other information or media inquiries, contact Mark Johnson on behalf of PearFiction Studios Inc. at +1 408 757 0156 or press (at)appshout(dot)com.
About PearFiction Studios Inc.
PearFiction Studios combines the talents of an innovative entrepreneurial designer and a team of trailblazing developers and artists, with a shared belief that simple design and innovation can result in awesome experiences.
Learn more at http://www.pearfiction.com