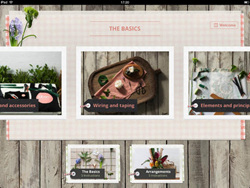 Whether it's for hobby or professional purposes, Bloom College is packed with tools and advice to help anyone improve their floristry skills
Cupertino, CA (PRWEB) November 04, 2014
People who want to take their love of working with flowers to the next level – either to enhance their love of this popular therapeutic craft, or because they wish to enter the rewarding and profitable world of professional floristry -- can now get a wealth of expert-led instruction on their iPad or Android device by downloading the remarkable new app Bloom College.
Created by renowned florist Yvette Timmins, Bloom College is a virtual classroom that uses fun and simple step-by-step recipe cards and video tutorials to help students create fundamental arrangements, including: garden herb and rose posies, buttonholes and boutonnieres, gift bag arrangements, table centrepieces, tropical arrangements and more. Students also learn key floristry basics, including: the proper care and maintenance of flower and plant materials, vases, containers, foam, tools, accessories, wiring, taping and more.
There are 10 classes in total, and students can re-take any or all individual classes as often as they wish. They can also choose to learn privately on their own, or stream the app onto their TV and learn with a group.
Other Bloom College special features include:

Video instruction led by Yvette Timmins, who in her 20+ year career has won several awards, including Australian Junior Florist of the Year and Victorian Junior Florist of the Year
Simple and elegant navigation that makes it easy to find the next lesson – or review an earlier one
Stunning, professional-grade photos that don't merely make learning easier, but are works of art in themselves
"Whether it's for hobby or professional purposes, Bloom College is packed with tools and advice to help anyone improve their floristry skills," commented Yvette Timmins. "The app is much more than a typical `how-to', it's also a `why to' that teaches in a fun, engaging and uplifting way that celebrates the timeless art, science and beauty of floristry."
Bloom College, the virtual classroom that teaches floristry basics with recipe cards and video tutorials, is available now for iPad from the App Store at https://itunes.apple.com/app/bloom-college/id612719099, and for Android devices from Google Play at https://play.google.com/store/apps/details?id=com.BloomApp.
For more information or media inquiries, contact Mark Johnson on behalf of Bloom College at +1 408 757 0156 or press (at)appshout(dot)com.
About Bloom College
Bloom College creates short courses and workshops for beginners and hobbyists, so that they can all enjoy using flowers for their own purpose. Bloom College's classes are a place where participants have fun, meet new friends and find the inner creativity.
Learn more at http://bloomcollege.com.au