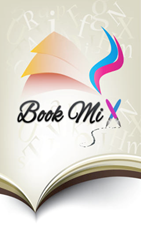 For many people, the hardest thing about writing a book is getting started.
Cupertino, CA (PRWEB) April 18, 2014
Writers in search of a creative new way to create, collaborate and connect, can now download the brilliant new no-cost app Bookmix.
Designed for both emerging and established writers alike, Bookmix empowers users to write anywhere from a few lines – to a few hundred pages – and share their unique creation with readers around the globe.
Plus, users who are in the mood to collaborate can invite others to participate in writing their book, which can lead to a whole new world of fresh ideas and interesting developments.
Other Bookmix special features include:

Unique user profiles where writers can highlight their experiences, abilities and ideas. They can also add a picture if they wish.
A book list to keep track of all open projects.
A friends list to see whose online and contributing.
Plus, the app is designed with an outstanding interface that lets users cut and copy text with a single tap, as well as access suggested words and phrases for when they stumble across dreaded writer's block.
"For many people, the hardest thing about writing a book is getting started," commented Ben Rawlinson, head of Bookmix. "Fortunately, Bookmix makes writing fun, easy and creative. Users don't have to worry about filling up hundreds of pages. They simply start on their first chapter and, if they wish, invite others from around the world to share and collaborate."
Added Mr. Rawlinson: "And just as importantly, Bookmix is perfect for writers of all skill and experience levels, from those who are just starting out, to those who have written for years or decades. There's something for everyone and since the app is available at no-cost, there's no risk to trying it out!"
Bookmix, the brilliant new no-cost app that is a fun and easy way for writers to create, collaborate and connect with readers around the world, is available now in the App Store at https://itunes.apple.com/app/bookmix/id829492807. The App requires iOS 6.0 or later, and is compatible with iPhone, iPad and iPod touch. It is also optimized for iPhone 5.
For all other information or media inquiries, contact Mark Johnson on behalf of Bookmix at +1 408 757 0156 or press(at)appshout(dot)com.
About Bookmix
Based in Auckland, New Zealand the Bookmix team have a philosophy to create a tool that allows anyone to create a well-organized book quickly and efficiently, with professional results. Bookmix aims to help authors at any level write books and also support collaboration and the sharing of opinions between authors.