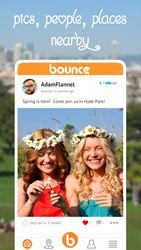 Bounce represents a completely new vision for local sharing to connect communities – both small and large -- with rich high value content using photos, messaging, links and events
Austin, TX (PRWEB) March 14, 2015
Backed by its two lead angel investors Larry Marcus (Pandora, Bandpage, Soundhound) and Howard Love (Hotel Tonight, Open Table), Bounce Technology Inc. announced that it has officially launched Bounce – Share Here! (beta) The announcement was made at South by Southwest (SXSW) Conference and Festival, which got underway on March 13, 2015 in Austin, Texas.
"We are excited for the ultimate Bounce beta test at SXSW!" commented Bounce Technology Inc.'s CEO and Founder Gordon Schaefer. "This official launch puts our technology into the hands of thousands of users, and gives them the opportunity to connect with geographically relevant, high value content to see what new discoveries await them."
Available for download at no-cost, and already racking up more 5-star reviews in the App Store than most social networking apps will generate in their entire lifespan, Bounce gives users a simple and fun way to capture moments that occur in their local environment, and then share photos, messages and links -- an action that the app refers to as "Bounces" -- to others nearby.
Users get to control the distance their Bounces (from 100 yards to 100 miles), as well as their duration (up to 30 days before self-deleting). If they wish, users can also hide their location (local sharing is "off" by default). They also receive push-notifications when someone comments or likes one of their Bounces.
On the receiving end, users get a steady stream of fresh Bounces every time they log in. In this way, the app functions as an on-demand social discovery tool that connects users to new and interesting events, restaurants, activities, as well as people with common interests.
And it's not just individual users who can get in on the Bounce action. Bands, artists, venues, stores and local business can use the app to reach local fans, patrons and customers, and share information and promotions of interest.
"Bounce represents a completely new vision for local sharing to connect communities – both small and large -- with rich high value content using photos, messaging, links and events," commented Bounce Technology Inc.'s CTO and co-founder Tyger White. "The innovative adjustable range dynamic instantly creates localized geo-fenced bubbles, which only exist when users are physically in a particular location. In essence, Bounce solves a unique challenge by allowing people to connect for real engagement with new people and places in their community, and see their local universe through the eyes of close friends and creative people."
Bounce – Share Here! A New Local Sharing App!, the unique new app that is on track to change how people share, communicate and experience what's happening around them, is available now for iPhone and iPad from App Store at https://itunes.apple.com/app/bounce-share-herepics-events/id949059449. A version for Android devices is currently in development, and will be available from Google Play in the near future.
Additional app information, including screenshots, a trailer video, and press kit, are available at http://bounce.bz.
CEO - Gordon Schaeffer will be available for interviews March 13th to March 22nd at SXSW.
SXSW Headquarters: Bounce will be located at The Buddha Lounge Sound Camp (Burning Man, Lightning in a Bottle) 1101 S. Congress St., Austin TX, March 15th to March 22nd.
For all other information including media inquiries, contact Mark Johnson on behalf of Bounce Technology Inc. at +1 408 757 0156 or press (at)appshout(dot)com.
About Bounce Technology Inc.
Founded by Gordon Schaeffer and Tyger White, Bounce Technology, Inc. is a disruptive technology company who's focus is to make innovative products that bring joy into people's lives and make our planet a better place to live.