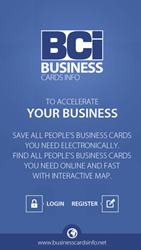 Cupertino, CA (PRWEB) September 23, 2016
Developed by Investor Guide Est, "Business Cards Info" helps anyone accelerate their business by saving catalogue of contacts business cards that can quickly be retrieved or searched at anytime.
In a world of freelancers, independent contractors, and job seekers, business cards and details are swapped more often than ever before; at happy hour, meetings and out in the field. For regular networkers this leads to a clutter of cards crammed into an already too full wallet or bag, where they will stay until they are lost or damaged. Business Cards Info allows users to quickly-and-easily save this data within a convenient app, and avoid the need to store physical cards.
Convenient features of Business Cards Info include:
> Post business cards online for easy sharing
> Save unlimited business cards
> Search for business cards (both saved within the app and online)
> Search using interactive maps
The interactive maps features offers great benefit to traveling sales representatives, who can see which business contacts are nearby at-a-glance and arrange impromptu meetings based on location.
To add a new business card, users simply fill out the provided fields, such as first name, last name, e-mail, job title, company, etc. The application then generates a business card based on the provided information, at which point it is stored in both the searchable database and a "cards wallet" which can be accessed at anytime. In addition to fields, a photograph of the card can also be stored along with the business card data.
Business Cards Info, the innovative way to store and search contacts' business card info, is
available now in the App Store at: https://itunes.apple.com/app/business-cards-info-bci/id527932468
For all other information or media inquiries, contact Mark Johnson on behalf of Investor Guide Est
at +1 408 757 0156 or press (at)appshout(dot)com
About Investor Guide Est
Located in Saudi Arabia, Investor Guide Est is an online channel for business advice and guidance.