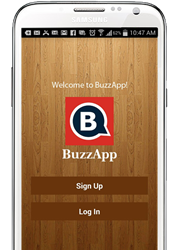 Cupertino, CA (PRWEB) June 30, 2015
Business professionals looking for a powerful, yet easy-to-use social networking app that helps them build their network, share and store files, connect with colleagues, and even find new customers and partners, can now head to Google Play and download the innovative new BuzzApp from Universal E-Commerce Solutions.
Much more than an instant messenger, BuzzApp features a suite of integrated tools designed specifically to serve the needs of business professionals – and all at no-cost. Wherever they are and whenever they're working, business professionals can simply launch the app and:

Chat with colleagues and other business professionals, or engage in group chats organized by theme (e.g. "Travel Buddies", "MBA Study Group" and so on).
Search for new connections by country, city or the latest link.
List products and services in BuzzApp's classified section, and receive inquiries from prospects and partners from their local marketplace and worldwide.
Share files -- including videos, audio, documents, photos and more -- and store them securely in the cloud for instant retrieval anytime, anywhere.
Create multiple photo albums, and control access permissions by designating them as public or private.
Send and receive crisp, clear voice calls or video calls via EDGE, 3G, 4G LTE or WIFI networks.
Furthermore, if business professionals desire they can have BuzzApp seamlessly integrate with their existing contact list, which allows them to make more connections. Other notable app features include:
A clean, uncluttered interface that is ideal for information-overloaded business professionals.
The ability to browse the photo albums that have been published by friends/connections.
Multiple incoming notification tone options, which can be easily changed.
"Most instant messaging apps are fine for personal use, but fail to offer business professionals the tools and functionality they require", commented Samuel Kofi Diame of Universal E-Commerce Solutions. "That's where BuzzApp is completely unique and innovative. It's simply a better SMS alternative for business professionals, and empowers them to build a vibrant social network full of rewards and advantages".
BuzzApp, the new must-have social networking app for business professionals, is available now for Android devices from Google Play at https://play.google.com/store/apps/details?id=com.skd.buzzapp.
Additional app information, including screenshots, is available at http://www.buzzapp.com.
For all other information or media inquiries, contact Mark Johnson on behalf of Universal E-Commerce Solutions at +1 408 757 0156 or press (at)appshout(dot)com.
About Universal E-Commerce Solutions
Universal E-Commerce Solutions, the creator of BuzzApp, is a Ghanaian-based technology start-up founded to compete with global technology providers. BuzzApp is more than an instant messenger, and is designed as a better SMS alternative and a growing social network for business professionals.