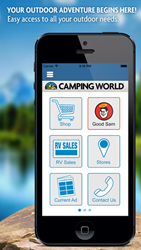 Our goal when we launched Camping World was to provide RVers with a must-have app that would give them everything they need for life on the road or in the great outdoors
Cupertino, CA (PRWEB) February 04, 2015
Camping World is a must-have app that gives RVers everything they need for life on the road or in the great outdoors, including information and driving directions to over 100 Camping World SuperCenter locations nationwide, access to the online store with over 10,000 products, a searchable database of RVs for sale, and more. The latest version 1.3 also supports iPad and iBeacon.
Camping World, which AppReviewDaddy.com says is "nearly guaranteed to offer the comfort of home and peace of mind so that users can be completely focused on their traveling fun", leverages GPS functionality to help users spot the nearest Camping World SuperCenter as they criss-cross the country. There are over 100 locations nationwide.
In addition, Camping World provides users with:

Step-by-step driving directions to the nearest (or any) Camping World SuperCenter location.
A full list of services offered by each location, along with hours of operation and contact information including emails and phone numbers.
The ability to browse and buy from Camping World SuperCenter's massive online store, which is stocked with more than 10,000 camping and outdoor-related items, and features detailed product information, photos, videos and customer reviews. Shoppers looking or great deals can also virtually flip through the latest sale catalog.
The ability to search (by year, make, model and/or price) for thousands of RVs on sale nationwide. Each listing is complete with interior/exterior photos and detailed vehicle information, which can be instantly emailed, printed or shared via social media.
In addition, Camping World lets users who visit any Camping World SuperCenter location to scan a product's QR code and instantly be taken to its product page. They can also use the app to learn more about Good Sam services, which include roadside assistance, TravelAssist and more.
And now in the latest version 1.3, Camping World features full iPad support, as well as Apple's innovative iBeacon support, which automatically augments and enhances the shopping experience for users who visit any Camping World SuperCenter location.
"Our goal when we launched Camping World was to provide RVers with a must-have app that would give them everything they need for life on the road or in the great outdoors, at the touch of a button," commented CEO & Chairman, Marcus Lemonis. "And while we had high expectations, the response we've received from users around the country has been overwhelmingly positive. And now in the latest version, we've opened up the Camping World experience to iPad owners, and the iBeacon support is truly phenomenal and something we're sure our current and new users are going to love!"
Camping World version 1.3 is available now at no-cost from the App Store at http:// https://itunes.apple.com/app/camping-world/id889297794. The app requires iOS 7 and supports iOS 8.
For additional information or media inquiries, contact Mark Johnson on behalf of Camping World at +1 408 757 0156 or press (at)appshout(dot)com.
About Camping World & Good Sam
Both founded in 1966, Camping World is America's #1 source for RVs, camping accessories, RV maintenance and repair and Good Sam is the world's largest RV owners organization offering helpful technical tips, vacation planning, extended warranty, magazine subscriptions, roadside assistance and more to serve the outdoor enthusiast. Partnered together, Camping World and Good Sam offer more to those who love the RV lifestyle by offering one-stop shopping and resources for everything RV and outdoors. Camping World features over 10,000 quality products located at over 100 SuperCenters nationwide, easy catalog and online shopping at CampingWorld.com as well as stocking a wide selection of new and used trailers and motorhomes from top RV manufacturers. Good Sam members receive cost-saving benefits and services, plus loads of valuable RV information and travel tips to get you ready for your next adventure. Additionally, Good Sam represents more than 1,500 local RV chapters designed to bring RVers together from similar geographic regions for group camping excursions. Camping World is the title sponsor of the NASCAR Camping World Truck Series™ in addition to the Official RV and Outdoor Retailer of NASCAR®.
For more information, visit http://www.CampingWorld.com and http://www.GoodSam.com
Learn more at http://www.campingworld.com