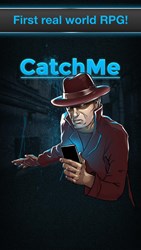 CatchMe Online blends strategy, tactics and logistics, and adds elements of combat and within a global gaming space
Cupertino, CA (PRWEB) October 01, 2013
iOS and Android users who want to see the world in new way can now download the revolutionary no-cost multi-player app CatchMe Online, and get set for hour after hour of excitement, fun and the chance to emerge victorious – and avoid defeat.
Developed by MAVERIX Pte. Ltd., CatchMe Online turns city streets across the world into thrilling combat zones that pit the hunters vs. the hunted, with the winner determined by the following formula:

The hunters win when they get 100 meters (or less) to the hunted, and manage to maintain (or decrease) that range for 30 seconds.
The hunted win when they get 200 (or more) meters away from the hunters, and manage to maintain (or increase) that range for 30 seconds.
However, to add to the excitement, CatchMe Online is designed with a unique twist: neither the hunters nor the hunted know when the chase will unfold, or what role they'll play. As such, all players have to remain very alert at all times, because the next passer-by could be a welcome friend – or a deadly enemy.
Each CatchMe Online game ends when all of the hunted have been defeated. All players are credited with coins and experience points, depending on the game mode.
Other CatchMe Online special features include:
2 multi-player game modes: 1 on 1, or 5 on 5
Global gaming space: users indicate in their profile the city in which they'll play (there are currently hundreds of cities available, with more being added on a regular basis)
A radar and distance indicator that displays the current location of all players in a city, as well as the proximity of all enemies
A list of special gaming skills for use in combat (all skills require time to recharge after use)
A countdown timer that is activated when players enters into combat
"CatchMe Online blends strategy, tactics and logistics, and adds elements of combat and within a global gaming space," commented a spokesperson from MAVERIX Pte. Ltd. "The result is a completely unique and totally addictive game that never gets boring, because each game has its own dynamics, details and dangers. Let the chase begin!"
CatchMe Online, the revolutionary new no-cost multi-player app that turns city streets into thrilling combat zones that pit hunters vs. hunted, is available now from the App Store at https://itunes.apple.com/app/catchme-online/id686061686, and from Google Play at https://play.google.com/store/apps/details?id=com.funnycodes.CatchMe.
Additional app information, including a complete list of available game zones (cities) is available at http://catch-me-online.com.
About MAVERIX Pte. Ltd.
Based in Singapore, MAVERIX Pte. Ltd. develops innovative and exciting games and other software.
Learn more at http://maverix-int.com.