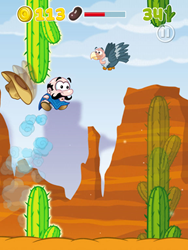 Cupertino, CA (PRWEB) November 29, 2016
Now available as a free download from the App Store and Google Play, Chili Boost is a new and simple-to-play "tap-to-fly" game. The one-tap mechanics is similar to the famous Flappy Bird but includes some exciting new features.
Players must eat up all the beans and chili peppers they can find to maintain propellant gas reserves that allow their character to skip cacti and avoid obstacles along the way home.
Collectable bonuses include: the magic shield, which protects the player from all dangers, the magnet, which collects all items automatically, and the potion, which allows the player to slip away during the race.
In addition to surviving, the aim the of the game is also to collect as many coins as possible: coins are needed to unlock or improve all the available upgrades.
Chili Boost offers many wonderful characters to play with and players can choose their favorite to use within the game.
Key features include:

Free download
Easy to learn but hard to master
Simple arcade gameplay that tests co-ordination and reactions.
One-tap mechanics
Increasing difficulty
Lots of distinctive characters
Unlock bonuses (Magnet, Shield, Magic Potion, ...)
Avoid many dangers (Anvil, Condor, Tumbleweed, ...)
Endless play
Chili Boost, the addictive new game from Adalta Apps, is available for iPhone and iPad from the App Store at https://itunes.apple.com/app/chili-boost/id1167964283, and for Android tablets and smartphones at https://play.google.com/store/apps/details?id=it.adalta.chiliboost.
A Video Demo can be viewed at: https://www.youtube.com/user/AdaltaApps
For all other information or media inquiries, contact Mark Johnson on behalf of Funvelous at +1 408 757 0156 or press (at)appshout(dot)com.
About Adalta Apps / Adalta
Adalta Apps is a spin-off created in 2010 for the development of mobile applications for Apple and Android devices. Adalta is an Italian company - founded in 1997 and based in Arezzo, Tuscany - specialized in marketing, support and training about software for science and business.
Learn more: http://www.AdaltaApps.com & http://www.Adalta.it
View the full Press Release in the appshout! Newsroom at: http://d.pr/d8Dc