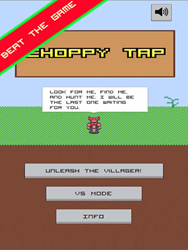 Cupertino, CA (PRWEB) June 07, 2016
Mobile game fans looking for a creative and fun new app that they'll spend endless hours of time enjoying – especially if they want to battle against a friend to see who will triumph -- can now head to the App Store or Google Play and download the ultra addictive Choppy Tap.
Available at no-cost and created by Spritesoft Development, Choppy Tap is refreshingly easy to understand, yet tough to master. There are three game options: launch a brand new game, continue a game, or choose the phenomenal "vs. mode" and battle head-to-head against a friend on the same device.
For the one-player options (new game or continue game), users find themselves on an open landscape, and must furiously tap their screen to use their weapon and overpower a sequence of enemies. Users can also keep an eye on their skill level and weapon experience level, both of which fluctuate based on performance. Once users reach 100 percent experience on a particular weapon, they get to browse their inventory and see what new weapon has been unlocked. There are over 50 unique weapons.
In addition, users can take advantage of power ups to help them triumph and climb levels. For example, they can temporarily double the damage that their weapon inflicts, and so on. Each weapon has its own specific power ups, and discovering them is part of the game's fun and excitement. At any time, users can also check out key statistics for both themselves and their enemy, including hit points, level, tap count, list of skills, and so on.
Another interesting Choppy Tap feature is the "rebirth" option, which allows users to essentially re-start the game from scratch, except they will have a 1.5 multiplier (i.e. they will inflict 1.5x damage instead of 1). This allows users to rapidly climb levels and defeat some particularly tough enemies. Rebirth points are calculated based on a user's current level, with 1 rebirth point being earned for every 100 levels.
For the fantastic two-player option ("vs. mode"), users play on the same device and put their reflexes, coordination, dexterity, and concentration skills to the test. Each user starts with 100 hit points, and must get the other down to zero points to win the game. This mode features both an offensive and defensive angle. On offense, users tap to hurl weapons at their opponent. On defense, users tap to use weapons as a shield to block oncoming attacks. It's incredibly fun and no two vs. mode games are ever alike.
And while all of this fighting and tapping is going on, users are treated to excellent sound effects (which can be muted as desired), and fun pixel art graphics that look sharp on both tablets and smartphones.
"The most common feedback we get from users around the world, is that once they start playing Choppy Tap, they want to keep on playing for hours and hours!" commented Tan Soon Kai. "And with over a million levels to experience and conquer, along with the option to battle against friends, users never have to worry about getting bored!"
Choppy Tap is available now at no-cost for iOS devices from the App Store at https://itunes.apple.com/app/choppy-tap/id1106206499, and for Android devices from Google Play at https://play.google.com/store/apps/details?id=com.spritesoft.choppytap&hl=en.
For all other information or media inquiries, contact Mark Johnson on behalf of Spritesoft Development at +1 408 757 0156 or press (at)appshout(dot)com.
About Spritesoft Development
Spritesoft Development is a mobile game and app development company that is focused on creating unique, creative and imaginative games, as well as innovative and functional apps. The company is particularly accomplished at using pixel art in its creations.